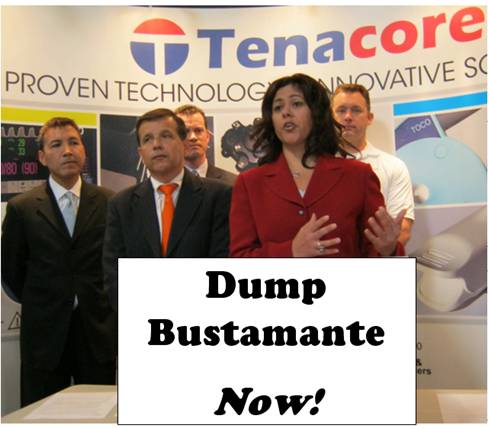 Santa Ana Mayor Miguel Pulido has been silent thus far on the matter of whether or not Santa Ana Council Member Carlos Bustamante should resign from the City Council, now that he is facing a number of felony sex crime and public theft charges.  My sources tell me though that he is standing by Bustamante.
Santa Ana Planning Commissioner Sean Mill sent an email to Pulido earlier today, asking him to join in the call for Bustamante's resignation.  You may also email Pulido at this link.  Here's Mill's email message to Pulido:
Mayor Pulido,
As you know our great city has weathered many a storm and always managed to land on its feet.  There has been no greater storm than the budget crisis that we recently survived thanks in large part to your leadership and the leadership of our great council majority and our City Manager Paul Walters.  Thanks to all the hard work the eminent disaster that we were facing was averted.  Brighter days are now on the horizon for our city and there are so many great things happening now and in the near future that we cannot allow our city to get off track.
However despite all the sunshine coming our way there is a huge black cloud hanging over our city, Councilman Carlos Bustamante.  These charges that are being levied against him are disgusting and despicable and I am quite sure that none of us are shocked at these revelations.  This behavior is the worst kept secret in Orange County.  Whether we like it or not the charges and "alleged" crimes by Councilman Bustamante reflect badly upon our city.  After all that our city has been through we don't need another black eye.
As the leader of our city I would encourage you to join Councilmembers Tinajero, Sarmiento and Martinez in calling for Bustamante's resignation.  Your voice is needed now more than ever.  The whole world has its eyes focused on Santa Ana and it is important to demonstrate that we are a city of decent, moral and upstanding people.  You are our leader and your actions will go a long way towards defining who we are. 
A Register reader poll indicates that over 86% of respondents believe that Councilman Bustamante should resign.  It is time that you add your name to that list.  It is times like this that leadership is desperately needed and the greatest leaders rise to the top. 
Miguel I know you love this city and have worked so hard to make it a great place to live and work.  Please don't let this black cloud ruin all that you have put into.  We need your voice to be heard, call on Carlos Bustamante to resign immediately for the good of our city.
Sincerely,
Sean H. Mill