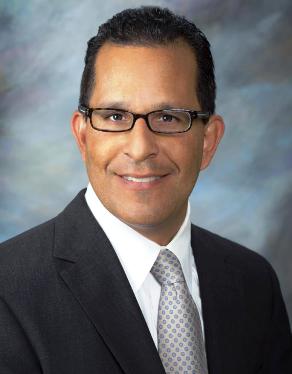 Santa Ana Planning Commissioner Eric Alderete has announced that he will campaign for Ward 3 on the Santa Ana City Council, which is currently held by Council Member Carlos Bustamante, who was arrested last week on a plethora of sex crime and public theft charges.   Ward 3 opens up in November, although Bustamante could still run for reelection.
Alderete has already racked up a number of powerful endorsements including those of: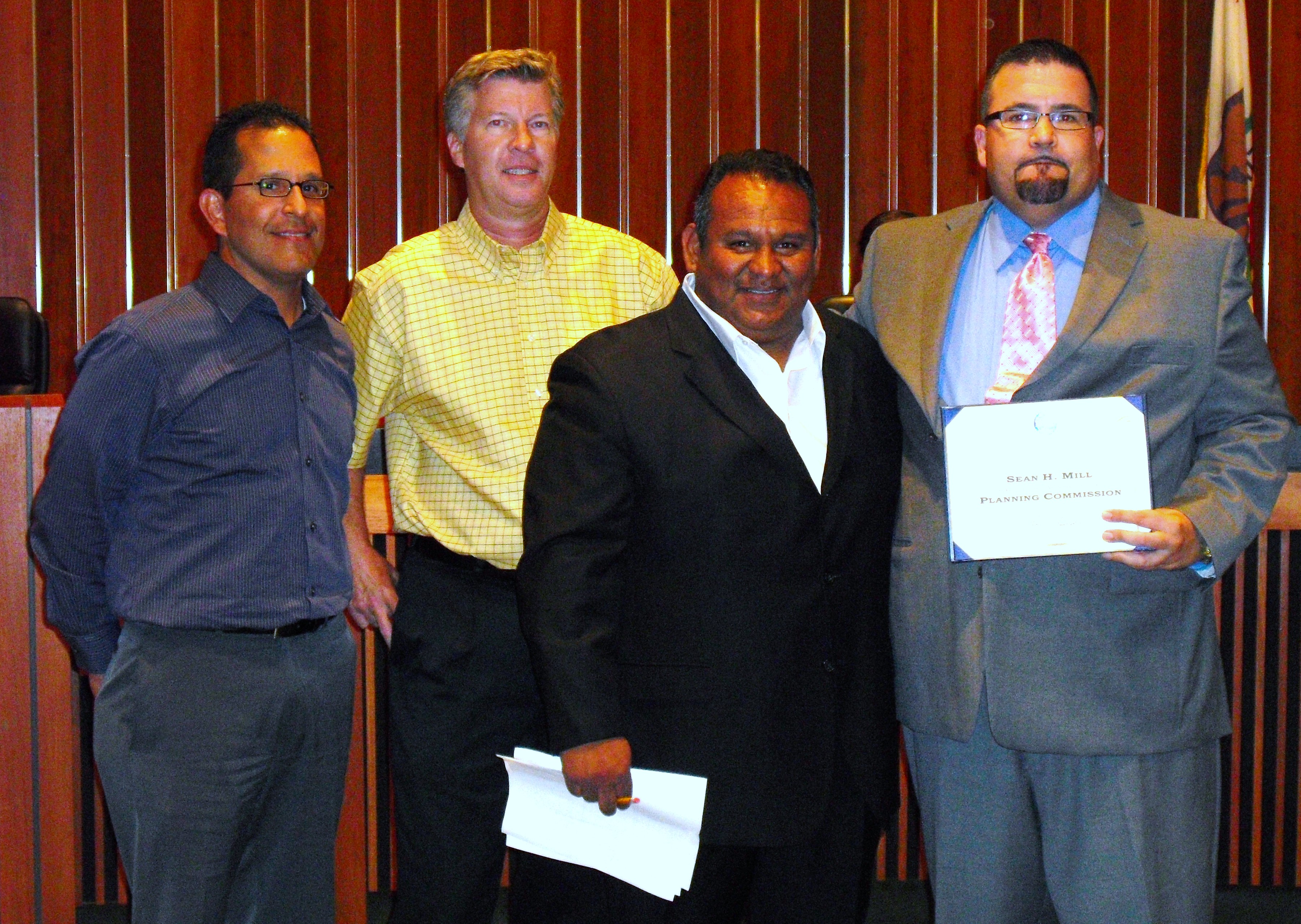 State Senator Lou Correa
State Assemblyman Jose Solorio
Santa Ana Council Members Sal Tinajero, Vince Sarmiento and Michele Martinez
Santa Ana Planning Commissioners Sean Mill, Mario Turner, Jim Gartner, and Patrick Yrarrazaval
Santa Ana ETAC Commissioner Don Cribb
Santa Ana Housing and Redevelopment Commissioner Desi Reyes
Santa Ana Personnel Commissioner Isabela Rivera
Santa Ana Parks and Recreation Commissioner Ken Nguyen
Alderete was selected as an Orange County Mover and Shaker by OC Metro Magazine in Nov., 2010, which included this short bio:
Eric M Alderete, vice president and senior corporate counsel at U.S. Bank National Association, has been named to the Santa Ana College Foundation Board of Directors. He also serves as chair of the City of Santa Ana Planning Commission.

Pictured: Eric Alderete, Jose Solorio, Vince Sarmiento and Mario Turner
Here is an excerpt from a Rancho Santiago Community College District press release issued after Aldrete joined the Santa Ana College Foundation's Board of Directors:
"The Santa Ana College Foundation is honored to have outstanding local leaders such as Eric Alderete step up to support our students and the community," said Erlinda J. Martinez, Ed.D., president of Santa Ana College and member of the Santa Ana College Foundation Board of Directors. 
Alderete, who resides in Santa Ana with his wife and two children, brings 12 years of legal experience to the foundation. He currently serves as vice president and senior corporate counsel at U.S. Bank National Association where he handles and manages a wide range of litigation. Previously, he was an associate with the law firms Mitchell, Silberberg & Knupp and Fulbright & Jaworski specializing in copyright and trademark litigation.
He is currently chair of the City of Santa Ana Planning Commission. In addition, he serves on the board of directors of the Hispanic Bar Association of Orange County, and previously served as a commissioner for the California Small Business Board.
Alderete, who completed his general education requirements in several California community colleges, received his Bachelor of Arts and Juris Doctor from the University of California, Berkeley, and his master's in city planning from the Massachusetts Institute.
———–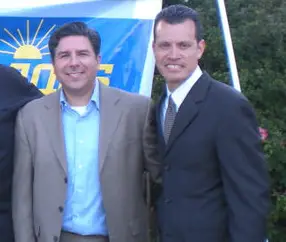 In related news I am earing that Santa Ana Council Members Michele Martinez, Sal Tinajero, and Vince Sarmiento are all calling for Bustamante's resignation.  Santa Ana Mayor Miguel Pulido and Santa Ana Council Member David Benavides apparently are sticking with Bustamante.  And Santa Ana Mayor Pro Tem Claudia Alvarez is sitting this one out as she is a Deputy District Attorney and her agency is prosecuting Bustamante.
Benavides and Bustamante have been friends for years.  In fact they flew together to Washington D.C. some years ago when Republican President George W. Bush invited them to attend one of his Cinco de Mayo events. 
You can email Benavides here if you would like to ask him to press for Bustamante's resignation.  And you can email Pulido here.