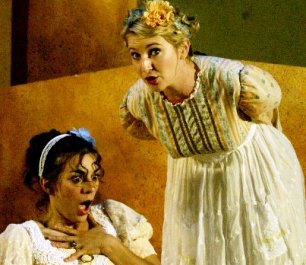 Community: Romeo and Juliet come to Santa Ana
SANTA ANA, CA (July 9, 2012) – Romeo and Juliet will come to life in Santa Ana. Enjoy an experience like no other, in the company of family and friends as Romeo and Juliet visit our city. The City of Santa Ana welcomes Shakespeare by the Sea, a non-profit professional acting troop for their presentation of Romeo and Juliet. This special performance will take place on Thursday, July 19 at Birch Park. Admission is free and the event will begin at 7 pm.
This performance is not be missed. Bring your blankets or lawn chairs, make yourself comfortable and enjoy the performance of this iconic romantic tragedy. Shakespeare by the Sea is graciously sharing their time and talent for all Santa Ana residents to experience acting at its best. What better way to relive this story, then to see it live. Donations will be accepted at the end of the show!
To access an event flyer in English, please visit the City website at:
Click to access romeo_juliet_2012.pdf
Birch Park is located Birch Park is located at 210 N. Birch St., in Santa Ana, on the southeast corner of Thirst St. and Ross. Parking is available at the parking structure on Third St. and Birch St.
# # #
Admission is free, and donations gratefully accepted.  Click here to donate to help pay for this performance.  Click here to check out their Facebook page.
Important Note: Seating arrangements and weather vary by location. Visit www.ShakespearebytheSea.org/locations for helpful information about this venue.