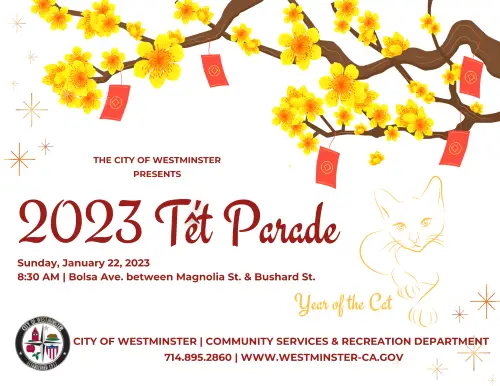 The Tet Parade is a grandiose event that has celebrated the Lunar New Year in Little Saigon for over two decades. Admission is free to the public.
Every year Vietnamese communities across the globe tune in to watch the event broadcasted by local TV stations and social media platforms. The Tet Parade features floats, marching bands, lion dances, color guards, veterans and youth organizations, martial arts, multi-cultural attires, elected officials, scout organizations, community organizations, and an array of local and international businesses.
The City of Westminster's Lunar New Year Tet Parade festivities will begin at 8:30 a.m. instead of 9:30 a.m. on Jan. 22. The Lion dance starts at 8:30 a.m., followed by firecracker show and ribbon cutting. The parade starts at 10 a.m. The pre-opening ceremony musical performance begins at 8 a.m., featuring students from Garden Grove Unified School District.
The parade begins at the intersection of Bolsa Avenue and Magnolia Street, and heads eastbound on Bolsa Avenue. The Parade will turn right on Bushard Street and head southbound, ending at Bishop Place. Click here for road closure information.
Parking is limited to public street parking and private parking lots on a first-come, first-served basis. We recommend your entire group park at the Westminster Civic Center parking lot and carpooling to the parade area.
Premier bleacher seats are also available for purchase. Get a front row view of all the action. Seating is located across the main stage.
For more information, including event program, road closures, purchasing premier seats, visit www.westminster-ca.gov.