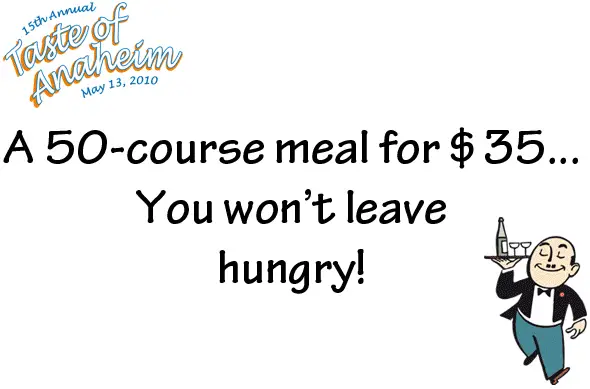 Come join us for the 15th annual Taste of Anaheim! Five thousand people are expected to attend this premier food, wine and music experience and will sample foods from over 50 fine restaurants from Anaheim and surrounding areas. Some of this year's delectable tastes will come from Ruth's Chris Steakhouse, California Pizza Kitchen, Bubba Gumps, McCormick & Schmick's Grille, Rainforest Café, Naples Ristorante, Tortilla Jo's, Roy's Hawaiian Fusion Cuisine, Mr. Stox Restaurant, and Alcatraz Brewing Co. just to name a few!
Press Release
FOR IMMEDIATE RELEASE
Media Conact: Russell Lahodny, (714) 758-0222, ext. 207, russell@anaheimchamber.org
Flavor of Community Shines through at Taste of Anaheim
ANAHEIM, Calif. (March 3, 2010) – The 15th annual Taste of Anaheim is coming to The Shops at Anaheim GardenWalk on Thursday, May 13, from 5:30 to 10:30 p.m. This annual event offers attendees the opportunity to sample food from 50 of the area's tastiest restaurants while listening to live music.
"I can't think of a better way to promote our city to Orange County residents," said Todd Ament, president and CEO of the Anaheim Chamber of Commerce. "By hosting this event, we familiarize the public with our local restaurants and remind residents that they don't have to drive long distances to have a nice meal. After all, supporting our restaurants helps retain jobs and city services."
This year's entertainment includes three bands; The Zippers, Don't Stop Believin', and Platinum Rockstars. Additionally, attendees will be able check out 20 expo booths.
Admission is $40 but tickets purchased in advance through the Taste of Anaheim Website, www.TasteofAnaheim.com, will receive a $5 discount per ticket. For more information about the 15th annual Taste of Anaheim, call the Anaheim Chamber at (714)758-0222. The Shops at Anaheim Gardenwalk is located at 321 W. Katella Ave. in Anaheim. Taste of Anaheim is sponsored by Anaheim Chamber of Commerce and the City of Anaheim.
# # #
The Anaheim Chamber of Commerce · www.anaheimchamber.org.  Representing more than 800 members, the Anaheim Chamber of Commerce is dedicated to Building a Strong Local Economy, Promoting and Branding the Anaheim Community, Creating Networking and Business Development Opportunities, and Representing the Interests of Business in Government and
Political Issues.
The Taste Of Anaheim
Date: Thursday, May 13, 2010
Time: 5:30pm – 10:30pm
Location: Gardenwalk
Street: 321 W. Katella