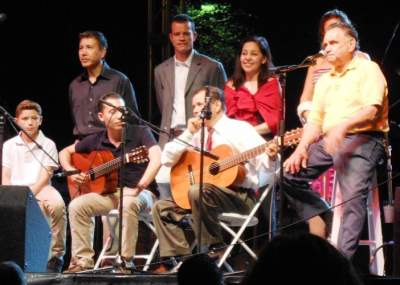 Until last night I had never attended the "El Grito" event at Santa Ana's annual Fiestas Patrias.  Who knew I was missing out on an unbelievable spectacle?
Thousands of Mexican Americans filled Santa Ana's Fourth Street, facing a huge stage at the end of the street, near the Northgate Market.  A moderator introduced our city's leaders at 8 pm, as Mayor Miguel Pulido and his family took the stage, along with Santa Ana Mayor Pro Tem Claudia Alvarez and traitorous Council Members Vince Sarmiento and David Benavides.  The latter is running against Pulido in November and Sarmiento is supporting him.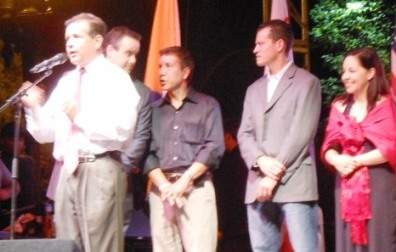 To Sarmiento's and Benavides' chagrin, Pulido and his family whipped out guitars and sat down to entertain the crowd as Pulido's father sang two Mexican classics.  I shot video of this that I will put up later after I have finished editing it.  When the musical performace was over, Pulido took the microphone to thank the crowd for the great turnout and to speak respectfully about Mexican independence, as a Mexican immigrant himself.  You can see in the picture above that Sarmiento and Benavides were most uncomfortable as the spotlight shined on Pulido.
Alvarez however was very comfortable and charming as she made her remarks.  She was resplendent in a red shawl and her smile lit up the stage.  She, like Pulido, was clearly in her element.
I recently criticized Benavides and his sorry cabal for being a "pocho revolution" and sure enough of all the speakers last night, Benavides was the most verbally awkward.  He also told the crowd that his father was an undocumented immigrant who got caught repeatedly and sent back to Mexico.  I wonder if the Usual Suspects in town would have supported Benavides if they knew this?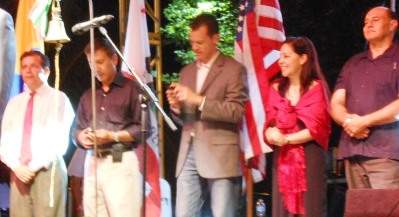 Sarmiento took the microphone and proceeded to tell the crowd that even though he is not Mexican, his kids are.  Apparently he married a Mexican-American.  Both he and Benavides hammed it up, but I caught them texting during the event, as seen in the picture above, a clear sign of disrpect for "El Grito" and for Mexican culture.
One thing was very clear last night – the Pulido family is loved and respected in Santa Ana a fact that Benavides and his clown posse overlooked in challenging him. In fact several Benavides allies blew off the event, including Council Members Sal Tinajero and Michele Martinez.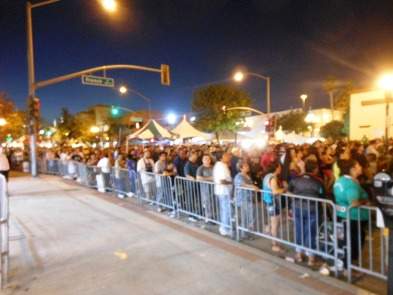 The Fiestas Patrias event continues today in Downtown Santa Ana.  It is going to be very hot again so remember to drink a lot of water and get in the shade when you can.