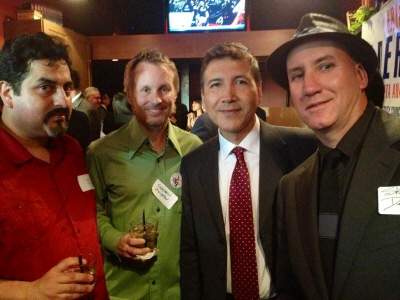 I am hearing that Santa Ana Council Member Vince Sarmiento appears to be having buyer's regret when it comes to upstart Santa Ana mayoral candidate David Benavides.  Apparently Sarmiento has told others that while he has endorsed Benavides he is not actively campaigning for him.  But the damage is done – endorsing the clueless, bumbling Benavides is simply inexcusable.
Sarmiento is running for re-election this year, in Santa Ana's Ward 1, against Estela Amezcua, a Santa Ana educator.  She is not related to Al Amezcua, the failed Santa Ana mayoral candidat who, like Sarmiento, is also backing Benavides.
Sarmiento and his family are originally from Bolivia.  They have lived in and around Santa Ana since 1965, according to his bio. He attended John Muir Elementary, Sierra Elementary, and Willard Intermediate Schools. He now lives in a 1929 historic home in the Saddleback View neighborhood; three blocks from where he grew upHe is the principal owner of a law practice in Santa Ana, with his wife, Eva, also an attorney. They have three children, ages 13, 10, and 7.
According to a Sarmiento relative, his dad was orphaned along with his brothers (Vincent's uncles) and suffered greatly as family members tried to survive during a bloody period of Bolivia's history. During that time, people became pawns in politicians' land grabs and anyone who challenged the government was instantly named a communist & imprisoned, if they weren't murdered outright.
Some Bolivian families united and scraped together enough to send one son per family to the US. Vincent's dad was among this first wave. These men worked long hours in Los Angeles restaurants as busboys, dishwashers and prep cooks — eventually choosing to settle in Orange County, apparently because the rolling farmland and clean air reminded them of home (moreso than the urban jungle of LA). Many years before Don Vicente Sarmiento (Vincent's dad) acquired Festival Hall. He felt that there needed to be more diversity in OC cultural offerings and dedicated his venue to presenting Latino musical acts.  Don Vincente later died of an aggressive form of cancer, not long after being diagnosed.
Sarmiento attended public colleges (UCLA & Berkely) and was active in the Farm Workers movement, marching with Cesar Chavez in Delano. I can appreciate his education but am disappointed he would support a known immigrant basher, as Chavez and his brother were infamous for mistreating immigrants, who they saw as a threat to union wages.
Sarmiento is a smart guy – much brighter than Benavides, to be sure.  And many sources have told me that Sarmiento is the one who recruited Benavides to run against Pulido this year, to soften up the Mayor for an eventual run by Sarmiento in two years, in 2014.  I hope that is not true but my sources are legitimate and the intel looks good.  Sarmiento's decision to recruit and back Benavides, however, looks bad, particularly since Pulido has always been so supportive of Sarmiento.
Sarmiento will no doubt win in November, but I won't be voting for him.  Like Benavides he has voted lockstep with Pulido since he was first elected.  That these guys are now pretending to be some sort of revolution is laughable.  What they are is greedy for more power and that is something I simply won't support.