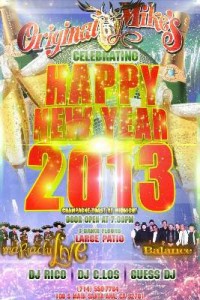 UPDATE: Click here for info about the 2014 New Year's Eve events in and around Santa Ana.
Original Mike's is hosting a New Year's Eve Bash that will feature "Balance" in the Main Room, along with DJ Rico. DJ C-Los will be in Studio 51. They will have a Guest DJ. Champagne Toasts at Midnight.
Here are a lot more great New Year's Eve parties and events going on in and around Santa Ana this year (if I did not list your event please send me the info):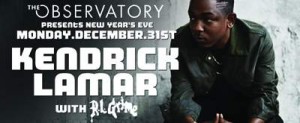 Kendrick Lamar will be performing at The Observatory on Monday, Dec 31, 2012, 8:00 PM, With RL Grime & The Underachievers. 18+. $59.75 General Admission Ticket. $100 VIP Ticket. $150 Open Bar Ticket (21+).  Open to 18+.  $59.75.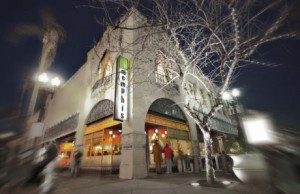 New Year's Eve Dinner at the Memphis at the Santora
Chef Diego Velasco has released Memphis' four course New Year's eve menu. Call 714.564.1064 or go to memphiscafe.com for reservations.
Click here to read the special NYE menu.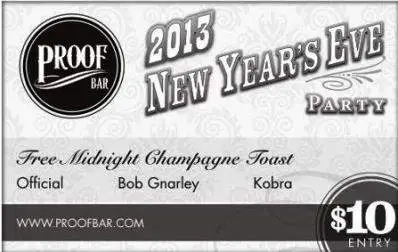 Proof Bar is hosting a 6th Annual New Years Eve Extravaganza on Monday, December 31, 2012 from 8:00 pm until 2:00 am.  Here we go again! Wrapping up another amazing year. We have so much to celebrate and this is our favorite night of the year to do so.
Dress nice. Bring a few friends. We are accepting reservations for parties of 12 or less with discounted entry. Email to info@proofbar.com. Bottle service offered but not required for a reservation. Dress code is New Years Attire (Festive/Formal). $1 additional cover for anybody wearing sneakers 🙂
This night is perfect for those that don't want a house party but also don't…want a massive. Proof is just right..
Complimentary bottles of water after 2:00AM. We will stay open, not hassle you to leave, call you a cab, give you hugs and blankets and do just about ANYTHING to make sure you have a fun and safe NYE.
Small Venue/Intimate Party/Limited Capacity
$5 Presale/$10 at the door – Unbeatable value!
DJs Official, Bob Gnarley & Kobra to grace the decks.
Midnight countdown and champagne toast for all. Goodies, favors, and more…
All reservations: email info@proofbar.com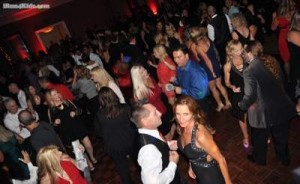 HUGE New Years Eve Dinner/Dance Party Celebration 2012, on Monday, Dec 31 8:00 pm at the Embassy Suites Santa Ana Hotel, Santa Ana, CA.  HUGE NEW YEAR'S EVE DINNER/DANCE PARTY Celebration!
Reserve your tickets now! Singles and Couples are Welcome!!! Dinner buffet is included!!! This Will Be The Event of The Year.  Great People, Great Food, And Great Entertainment! RSVP early, as attendance is limited.
Where: EMBASSY SUITES, 1325 DYER ROAD, SANTA ANA, CA 92705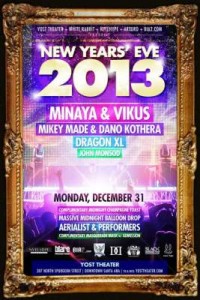 Yost Theater + Nytehype + White Rabbit + Arturo + Bia2.com Present: New Year's Eve 2013.  Top Local DJs + EDM Talent, Featuring: Minaya & Vikus, Mikey Made & Dano Kothera, Dragon XL, John Monsod.  On Mon 12/31. Doors: 9:30 pm. $25 Presale / $30 at Door • 21+. First 100 RSVPs in line – $20 Entry
Complimentary Champagne Toast
Massive Midnight Balloon Drop
Aerialists & Performers
Complimentary Masquerade Mask
VIP Seating and Bottle Service Reservations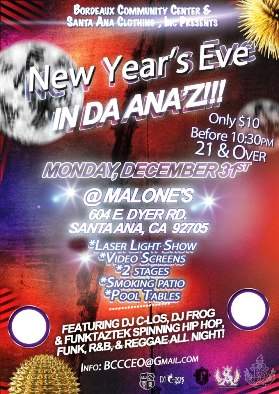 New Year's Eve Backyard Boogie at Malone's
Monday night, from 9 pm to 2 am, at 604 E. Dyer Road, in Santa Ana.
Book your babysitters NOW!!!
We have been hired to Dj for New Years Eve at the NEW AND IMPROVE Malone's Bar and Grill in Santa Ana, We would love to spend new years with all of you and will like to invite everyone to join us on partying in the New Year like never before, we need as much support as possible So lets Ring in the New Year with a BANG!!!! We have partner up with Bordeaux Community Center to make this happen and would like to show off the good following crowd we have….
So we are sending this… invite to spend the New Year with you and have a great time Backyard Boogie Style!! No dress code, no drama, no live performances this time…just straight partying!! Dancing, drinking, bumpin & grindin!! 😉
GAS WILL BE TOO EXPENSIVE so stay local and party with us at Malone's. Why spend all that money on Boochie A$$ Clubs when you can dress up or stay casual and just have a AWESOME time at a good price!!!! SHOTS ARE ON ME!!!!
EARLY ARRIVAL SUGGESTED!!
*Dj C-Los & Dj @n-D spinning Hip Hop, Funk, R&B, Old School, & Reggae all night long!!!*
*Laser Light Show* *Video ScreenS* *2 stages* *Huge patio for smoking* *Full Bar*Pool Tables…. AWESOME COUNTDOWN!!!!
21 & Over ONLY!!!!
Come on out and party with your homeboys and homegirls right in your own backyard!
Check us out at www.facebook.com/andy00entertainment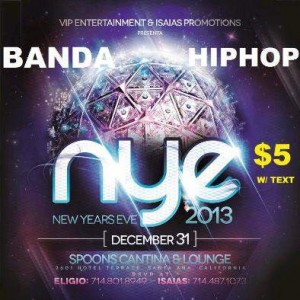 New Year's Eve at Spoon's Tex Mex in Santa Ana featuring Banda and Hip Hop
2013 HERE WE COME!! NYE PARTY TONIGHT AT SPOONS CANTINA LOUNGE IN SANTA ANA. BANDA SINALOENSE EN VIVO AND DJ FUTURE MIXXING THE BEST OF HIP-HOP. FREE CHAMPAGNE TOAST, FREE DRINK GIVEAWAYS, 5 FREE BOTTLES WILL BE RAFFLED, BUCHANAS AND GREYGOOSE $125, ONLY $5 ALL NIGHT WITH TEXT. CANT MISS OUT TONIGHT AT SPOONS AS WE WELCOME 2013. COUNTDOWN SPECIAL WITH DJ SHREK. RESERVE YOUR TABLE NOW. 2601 HOTEL TERRACE DR, SANTA ANA. 714-801-8949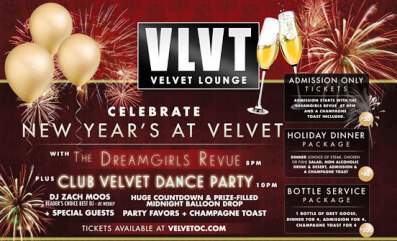 NEW YEARS EVE EXTRAVAGANZA AT VELVET LOUNGE!
Join your friends at Velvet Lounge to ring in 2013, at one of the hottest parties in town! We start the night with a special 8pm edition of the famous Dreamgirls Revue! Enjoy an amazing 3-course dinner with the show. Then, at 10pm the party kicks in to high gear with DJ Zach Moos leading up to a dramatic countdown, prize-filled balloon drop, and midnight champagne toast! Get your tickets now, so you don't miss out!
GENERAL ADMISSION:
8PM DREAMGIRLS REVUE
CHAMPAGNE TOAST AT MIDNIGHT
HUGE COUNTDOWN AND PRIZE-FILLED BALLOON DROP
DJ ZACH MOOS 10PM-2AM ( READERS CHOICE "BEST CLUB DJ" -OC Weekly)
FREE PARTY FAVORS
DINNER AND BOTTLE PACKAGES AVAILABLE
$20
DINNER & SHOW PACKAGE:
Our NYE Dinner Package includes all the above, plus a full 3-course dinner and table seating for the Dreamgirls Revue. Choose from Steak, Chicken, Fish, or vegetarion entrees; along with a salad, desert, choice of included (non-alcoholic) beverage. $40.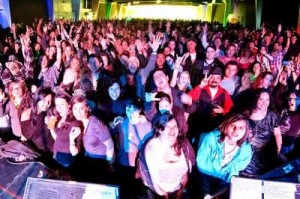 The OC Fair New Year's Eve Block Party, by the people who bring you the annual OC Fair, is back for its third year on Monday, December 31, from 7:30 pm – 1:30 am.
Unlike other New Year's Eve celebrations, the New Year's Eve Block Party is offering great fun in a casual setting. No black ties here!
The OC Fair New Year's Eve Block Party will offer live tribute bands and DJ entertainment playing today's most popular music.  Join us in welcoming the new year!
Admission Includes: Awesome Dinner buffet from 8-10 pm!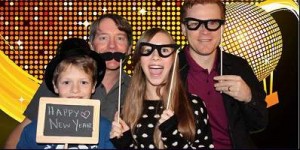 Great Night! Family New Year's Eve Returns to the Great Park
IRVINE – Following its successful debut last year, the Orange County Great Park will once again proudly host Great Night! Family New Year's Eve, the biggest family-friendly New Year's Eve party in Irvine. Families and anyone interested in celebrating the New Year with an evening filled with live music and dancing, great food and fun for all ages in a festive, alcohol-free environment are encouraged to attend.
Great Night! kicks off at 5 p.m. on Monday, December 31 and culminates with a countdown and celebration of New Year's Eve 2013 on East Coast time at 9 p.m. As the clock strikes 9 p.m., the Great Park rings in the New Year with an explosion of streamers, party hats and noise makers. Admission is free, and parking is $10.
Southland Mega Groove, a popular 5-piece band with versatile vocalists that played at last year's first-ever Great Night! event, will once again rock the night away with songs from across the decades. Hangar 244 will be transformed into a Disco Lounge featuring DJ music and dancing. Local community groups will also be on hand to perform throughout the evening.
Great Night! will feature carnival-style games, a scavenger hunt, military vehicle displays, arts and crafts activities for children, street entertainers and a new outdoor recreation game area. Families can enjoy carousel rides, art exhibitions at the Palm Court Arts Complex, as well as dine on delicious food available from more than a dozen gourmet food trucks and food stations. Visitors can also send New Year's Eve photos to friends and family and post them on Facebook from special high-tech photo booths on site.
The Orange County Great Park is located at Sand Canyon and Marine Way, and can easily be reached by the 5 or 405 freeways. For more information, visit, please visit www.ocgp.org or call 866-829-3829.