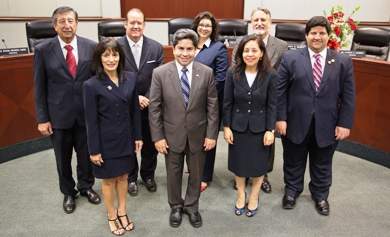 PRESS RELEASE, FOR IMMEDIATE RELEASE: December 14, 2012
Contact: Judy Iannaccone , Director, Communications Phone: (714) 480-7503, e-mail: iannaccone_judy@rsccd.edu
Four Trustees Installed on the Rancho Santiago CCD Board of Trustees, Officers Elected
(Santa Ana)— On Monday, December 10, at a regularly scheduled meeting of the Rancho Santiago Community College District (RSCCD) Board of Trustees, four newly elected trustees were sworn into office. They include Claudia C. Alvarez representing Area 5, Arianna P. Barrios representing Area 7, Jose Solorio representing Area 1, and Nelida Mendoza Yanez representing Area 3.
The installation ceremony featured a number of community leaders administering the oaths of office and serving as witnesses. Orange County District Attorney Tony Rackauckas issued the oath of office to Alvarez. Orange Mayor Tita Smith administered the oath of office to Barrios; her father Russell Barrios served as witness. Judge Salvador Sarmiento issued the oath of office to Yanez; Senator Lou Correa served as witness. Correa administered the oath of office to Solorio.
At this organizing meeting, the trustees selected new board officers. Arianna P. Barrios, who was appointed to the board in 2011, was selected as its president. Solorio will serve as board vice president and Lawrence R. "Larry" Labrado as its clerk.
Barrios, a resident of Orange and owner of Barrios & Associates, has served as a communications consultant for more than 20 years. Currently, she works with a diverse array of clients including Disneyland Resort, Orange County Supervisor-elect Todd Spitzer and Anaheim City Councilwoman Kris Murray. Previously, Barrios was the director of communications for the Richard Nixon Library and Birthplace in Yorba Linda. As a dedicated community volunteer, Barrios has served the Orange Unified School District, Community Foundation of Orange and YWCA of Central Orange County.
Solorio, a resident of Santa Ana, is the son of migrant workers who has gone from laboring in the fields alongside his parents, to earning a master's degree in public policy from Harvard University, to serving in the State Assembly, and now to serving as a community college trustee. In the State Assembly, he authored laws to improve the way academic achievement is measured, to help students learn English more quickly, to train teachers on using data to improve classroom instruction and to reduce the high price of college textbooks. In addition to his work in local and state government, Solorio has 10 years experience in public affairs, marketing, public relations, research, and communications.
Alvarez, a 26-year resident of Santa Ana, serves as deputy district attorney for the County of Orange. Previously, she served as a Santa Ana City Council member from 2000 to 2012. She earned a bachelor's degree in criminal justice/political science from California State University, Fullerton, and a law degree from Loyola Law School. Alvarez has been active in many community organizations. She has served as a mentor for the Puente and Hermanita Mentor Program, president of the Hispanic Bar Association, vice president of KinderCaminata, president of MANA, and as a board member of the Community Services Programs. She also served on the Orange County Water District Board of Directors representing Division 8.
Yanez was born in Jalisco, Mexico, emigrated to the United States in 1965, and has been a resident of Santa Ana for more than 40 years. She is a paralegal with Orange County Child Support Services and previously served as a court clerk for Orange County Superior Court. Yanez is a U.S. Army veteran who was honorably discharged as a Sergeant (E5). Her extensive community involvement includes membership in the United Mexican American Veterans Association, American GI Forum, MANA de Orange County, West End Community Oriented Policing Board, Women in Leadership, and Toastmasters International. She also serves as community outreach chairperson for the Orange County Paralegal Association.
"I applaud the courageous work of the previous RSCCD board to respect the demographics of the community we serve and selflessly enact redistricting last year. The diversity of the newly seated board is a direct reflection of those actions and has given students, faculty and the wider community a wonderful depth of talent and representation. I am deeply honored to serve as its president," said Barrios.
About the Rancho Santiago Community College District
The mission of the Rancho Santiago Community College District (RSCCD) is to respond to the educational needs of an ever-changing community and to provide programs and services that reflect academic excellence. Santa Ana College and Santiago Canyon College are public community colleges of RSCCD, which serve the residents of Anaheim Hills, East Garden Grove, Irvine, Orange, Santa Ana, Tustin and Villa Park. Both colleges provide education for academic transfer and careers, courses for personal and professional development, customized training for business and industry, and programs to train nurses, firefighters and law enforcement personnel.
# # #