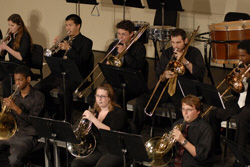 Enjoy a free Picnic & Pops Concert at Chapman University, in Orange, on October 14.  Bring your picnic dinner and blankets or chairs for a fun concert by the Chapman University Wind Symphony under the direction of Paul Sherman.
This year's Picnic and Pops Concert will include movie clips and music by Charlie Chaplin, Queen ("Bohemian Rhapsody" in Wayne's World), and Astor Piazzola ("Libertango" in The Tango Lesson), and also feature music from Ghostbusters (Ray Parker Jr.), El Cid (Miklos Rosza), Pirates of the Caribbean and Gladiator (Hans Zimmer). Part of Chapman University Homecoming & Family Weekend.
Location: Attallah Piazza @ 6:30pm.  Admission is free.
Chapman University Wind Symphony
The University Wind Symphony is now under the direction of Dr. Paul Sherman. It has earned a reputation for its breadth of musicality and consistently high level of performance. Emphasis is on the development of musical expression and individual and ensemble skills through the identification, performance, and appreciation of the finest wind literature. While the ensemble is comprised primarily of music majors, students from all disciplines are invited to participate in the Wind and Percussion Program at Chapman.
Since its formation in 1995, the ensemble has presented featured performances for the state conference of the California Music Educators Association (1997, 1999, 2001, 2003), the Invitational Band Festival at the Orange County Performing Arts Center, and the Orange County Millennium. In 2007, the Chapman University Wind Symphony returned to the 2007 CMEA Conference to present a featured performance and a clinic session entitled "History of the American Band." The Wind Symphony tours bi-annually on the West Coast of the United States, and recently returned from a triumphant performance tour of Australia that included a featured performance in the world-renowned Sydney Opera House.