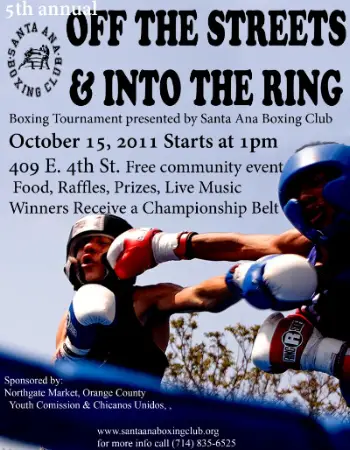 The Santa Ana Boxing Club Presents: The 5th Annual Off the Streets & Into the Ring Youth Boxing Show on October 15, 2011 @ 1PM.
Come and support the young warriors At Santa Ana Boxing Club. 20 Bouts will be scheduled for the day, with youth attending from all over California and neighboring states.
The event will be FREE for the WHOLE FAMILY.
The fights will take place in a ring that will be set up in in the middle of French and 4th St.
FOOD, RAFFLES, LIVE MUSIC!
Sponsored by: Orange County Youth Comission, Northgate Markets.
About SABC
On the corner of 4th St. and Garfield in Santa Ana stands the Santa Ana Boxing Club, a place rich in history and full of heart. The gym is located between two known gangs, next to a bar and in a poor part of Santa Ana. It is located in the empowerment zone area of the city.
Back in the 70s, John Ramirez Sr. opened the gym. It was considered a safe haven for the young people in this low-income neighborhood. John Ramirez, Sr. had a way with the youth and when they entered the gym it was neutral ground.