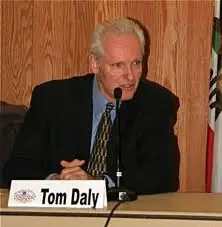 Tom Daly, the money-wasting O.C. Clerk-Recorder and Anaheim resident, who is, inexplicably, running for the 69th Assembly District, is getting hammered by a new website called "the Trouble with Tom."
Current posts include:
The blog is anonymous but it appears to be the work of someone allied with the Julio Perez campaign for the 69th Assembly District.  Perez has never run for office before.  The current leading candidate for the 69th is Santa Ana Councilwoman Michele Martinez.