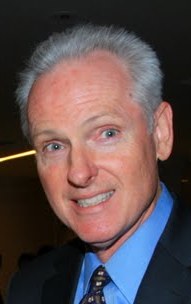 I first asked the question, "Who is Tom Daly," back in March of 2009, on the Orange Juice blog.  Now that Daly is running for the 69th Assembly District, where Jose Solorio is terming out next year, it is time once again to ponder just who this political hack is.
As you may recall, Daly ran to replace Chris Norby on the O.C. Board of Supervisors back in 2009.  But then he got cold feet and pulled out – but only after he held a couple of fundraisers and padded his campaign account.
What do we really know about Daly in the first place?  I tried looking him up online and found little information.  But here is what I did find:
This isn't the first time Daly has expressed an interest in running for the O.C. Board of Supervisors.  He announced his intention to run way back in 1998, when he was Mayor of Anaheim, according to the L.A. Times.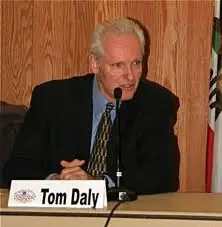 But Daly was charged with campaign finance violations.  "The complaints include charges that Daly and former Anaheim Councilman Irv Pickler accepted campaign contributions that exceeded donation limits, and that they failed to itemize and report the donations."
By March of 1998, Daly had pulled out of the Supervisor's race, according to the L.A. Times.  "Daly said Monday he had spent dozens of hours meeting with attorneys to fight the charges. When he realized how much time and money a countywide political campaign would consume, on top of the legal fight, he said he opted out of the supervisorial race."
Bob Zemel and Lou Lopez were the Anaheim Council Members who pursued the campaign finance charges against Daly.  Lopez went on to run for Steiner's seat but Cynthia Coad won.  She then backed the O.C. PLA a few years later and then Fullerton Councilman Chris Norby took her out.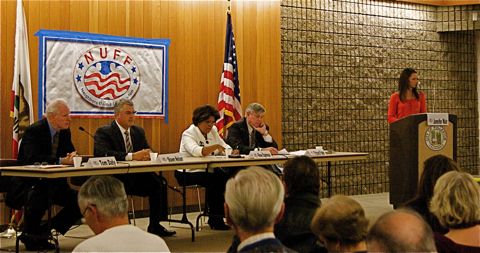 The charges against Daly were dismissed in May of 1998, on a technicality.  Apparently the Anaheim Council did not have a right to hire a special prosecutor, Ravi Mehta.  The decision was ripped by Mehta, ""When I filed the charges, I believed they were guilty," he said. "I still believe they are guilty, and the judge's decision still does not exonerate them."
The case took its toll on Daly as he ended up separated from his wife, Debra, who also had been investigated by Mehta.
Daly ended up running for Mayor again, against Zemel.  Daly accused Zemel of being dishonest, which was ironic given Daly's campaign finance troubles.
Daly ultimately won.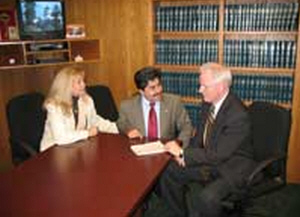 In 2000, Daly became engaged to county lobbyist Debbie Trabattoni, according to the O.C. Business Journal.  That's right.  Daly had two Debbies way before disgraced former Sheriff Mike Carona did!
By 2002, Daly was the O.C. Clerk-Recorder.  It was a job few people knew anything about – but it came with a six figure salary and it gave him control over millions of dollars.
Daly said he too would "be mindful of potential cost savings and efficiencies that might come about via consolidations," according to the L.A. Times.  But while other Counties have merged Daly's office with their Voter Registrar and Assessor's offices, no such consolidations happened on Daly's watch.
To the contrary, rather than save money, Daly opened a branch office in Fullerton.  He also opened a South County office back in 2007.
Daly was obviously laying the groundwork for his eventual campaign for the O.C. Board of Supervisors.  Eventually Daly tried to replace Norby, but it was an epic fail – and it resulted in yet another aborted campaign.  But what was it about Daly that garnered the support of GOP consultant and Prop. 8 supporter John Lewis?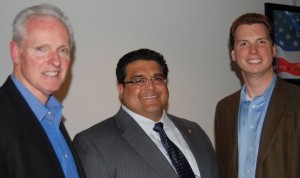 The O.C. Register also reported recently that 100% of Daly's health insurance is paid for by Orange County taxpayers, to the tune of over $11,000 a year!  That is about what a family of three would pay annually for their health insurance.
And Daly hired former reporter Jean Pasco in July, 2006, ostensibly to "oversee the expansion of the Orange County Archives."
According to Daly's website, Pasco's "goal is to acquire more physical space for the Archives, obtain additional collections, expand the Archives' multimedia presence, encourage academic research and create public-private partnerships for the greater preservation and display of Orange County history."
We all know however that she is really there to serve as Daly's press agent – in a campaign operation that is funded by the Clerk-Recorder's office.
And Daly spent a couple of million on a building that was eventually supposed to house the O.C. archives that Pasco oversees.  That turned out to be a mess.  Click here for the gory details.  The building stands vacant today – and it will cost up to ten million to refurbish it.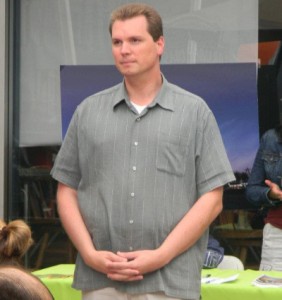 And of course it didn't end there.  Earlier this year Daly hired his pal Jordan Brandman, even though the County has a hiring freeze in place.  Here is how the Friends for Fullerton's Future blog put it:
What special skills does Mr. Brandman bring to the Clerk's office? Hard to say. According to his official bio his work history over the past decade has been pretty, um, varied:  some political appointment jobs in Sacramento, followed by a brief stint with the useless OC Business Council in "workforce development" (including his own, presumably), and most lately employment in the Brandman family "environmental consulting" business. What any of this background has to do with the smooth operation of the County's top paper shuffler is unknown.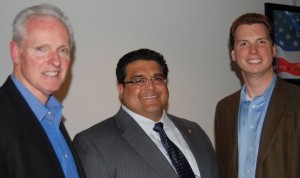 And that is all I could find on Daly – at least in terms of his past history.  I did find a reference to Daly's former career as a marketing consultant.  That doesn't sound very impressive.
When you consider the people who have traditionally backed Daly, I don't see how anyone of good conscience could support him.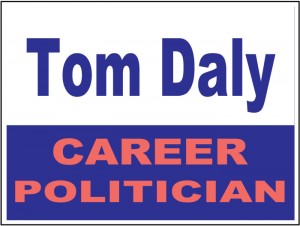 Steven Greenhut found evidence that Daly is no friend of freedom, in this post. Here is an excerpt from that post:
Daly — as Anaheim mayor — was an advocate for big, intrusive and liberal government. He adamantly supported CenterLine and was an enemy of property rights as he tried to use the city's power to shut down old motels (and throw out people who were one step away from homelessness). He was a big backer of a city plan that threatened to use eminent domain, and eventually just used an enormous amount of tax subsidies, to revitalize a low-income privately owned apartment complex. In fact, it was Daly's hostility to property rights and freedom that led to Anaheim's freedom-friendly policies under Curt Pringle, Tom Tait and Richard Chavez. One spark was the Daly administration's hostility to Gigante market, which sought a liquor license to open its store near Anaheim Plaza.
And of course we came across evidence that Daly has been flaunting Orange County purchasing guidelines, so as to enrich his pals.
You can learn a lot more about Daly by clicking here.
Daly is opposed for the 69th A.D., by Julio Perez, a labor consultant, and Santa Ana Councilwoman Michele Martinez.
In case you are wondering who would support the awful Daly, here is his advertisement for his upcoming fundraiser:
Tom Daly for Assembly
Host Committee
Bill Lockyer, State Treasurer
Jose Solorio, State Assemblymember
Gail Eastman, Anaheim Councilmember
Bruce Broadwater, Garden Grove Councilmember
John Hanna, Rancho Santiago Community College District Board Member
Brian Conley, Rancho Santiago Community College District Board Member
Leonard Lahtinen, North Orange County Community College District Board Member
Donna Miller, North Orange County Community College District Board Member
Jordan Brandman, Anaheim Union High School District Board Member
Jan Domene, Anaheim Union High School District Board Member
Anna Piercy, Anaheim Union High School District
James Vanderbilt, Anaheim City Elementary School District
Tom Umberg, State Assemblymember, 69th District (Ret.)
 Todd Ament
Frank Barbaro
Dan Callahan
Cynthia Contreras
Lucy Dunn
John Erskine
Alden Esping
Linda Esping
Juan Carlos Flores
Mark Gaughan
Frank Garcia
Gary Hunt
Dan Jacobson
Charles Kim
Paul Kott
Mike Levin
Reuben Martinez
Carrie Nocella
Tom Phelps
Michael Ray
Southwest Regional Council of Carpenters
Geoffrey Stack
Bryan Starr
Steve Sullivan
Bill Taormina
George Urch
William C. Waggoner
John Withers
Cordially Invite You to a Reception Supporting Orange County-Clerk Recorder Tom Daly for the 69th State Assembly District
Wednesday, October 19, 2011, from 5:30 pm to 7:30 pm
Original Mike's Restaurant, located at100 South Main Street, Santa Ana
 $3,900 Co-Host
$2,500 Gold Sponsor
$1,000 Silver Sponsor
$150 Per Person
To RSVP or for more information please call 562-981-2111 or email gbuchert@earthlink.net