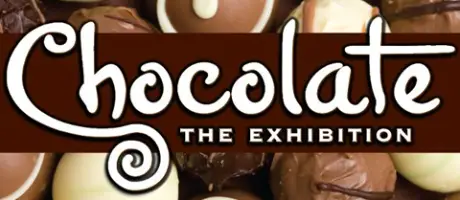 The first 100 guests at this Saturday's grand opening, on June 11, of "Chocolate: The Exhibition" at Muzeo, in Anaheim, at 10 am, will receive free admission and a complimentary candy bar! SWEET!
A unique tree in a lush tropical environment. A seed so precious it was used as money. A spicy drink, and a sweet snack. Chocolate is all this…and much more. Explore the relationship between human culture and this rainforest treasure in Chocolate: The Exhibition at MUZEO located in downtown Anaheim.
Chocolate: The Exhibition will immerse you in a sweet experience, engage all your senses, and reveal facets of chocolate you've never thought about before. You'll explore the plant, the products, the history, and the culture of chocolate through the lenses of botany and ecology, anthropology and economics, conservation and popular culture.
Sections on the cacao tree and its rainforest environment; chocolate in the Maya and Aztec cultures; how chocolate came to Europe, its history there, and how technology changed it from a luxury to a massproduced snack food; how chocolate is grown, processed, advertised, consumed, and traded on the world market today. Artifacts include pre-Columbian ceramics and ritual objects; European silver and porcelain chocolate services; nineteenth- and twentieth-century cocoa tins, advertising, and packaging; antique and contemporary candy molds; botanical specimens and agricultural tools.
Chocolate is a sweet experience for all ages! Admission is $13 for adults, $9 for children 12 and under. 3 and under is free. Group tour discounts are also available. Call 714-956-8936 for more information or access www.muzeo.org. Hours are 10 AM – 5 PM daily. MUZEO is located at 241 S. Anaheim Blvd. in the heart of downtown Anaheim.
Chocolate: The Exhibition is a fully bilingual exhibit. All text is in Spanish and English.
Chocolate: The Exhibition and its national tour were developed by The Field Museum, Chicago.
This project was supported, in part, by the National Science Foundation.