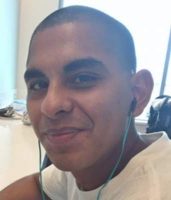 Santa Ana Police Department
Advisory: Detectives from the Santa Ana Police Department are seeking assistance in locating the above missing person
Missing Person: Enrique Rivera (23) , Male/Hispanic 5'07", thin build, 135 lbs., black hair and brown eyes.
Tattoo: Picture of Rubik's Cube on left shoulder
Enrique Rivera walked away from a mental health care facility in the area of 2500 S. Deegan Drive in Santa Ana. He was last seen on 5/11/2017 at 9:00 P.M. at the mental health care facility. Rivera is in need of medication for his mental health disability. Rivera is from Texas and has no family in Orange County. Rivera's family is currently in town from Texas looking for him. He has not been seen or heard from since leaving the care facility and his family is concerned.
Anyone with information about Rivera is asked to please contact Detective Gus. Moroyoqui at 714-245-8731.