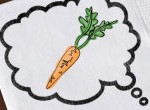 Follow Your Food from Farm to Fork with "King Corn"
IRVINE– Celebrate Earth Day early by discovering how a simple ear of corn connects with every part of our life with the documentary film, King Corn. The film is being shown as part of the Great Park's Food for Thought series, exploring our connections to food.
In this Peabody Award winner, two college friends decide to move to the heartland to plant and grow an acre of corn on a farm in Iowa. This modern-day odyssey leads them to better understand the broader food production system and farming challenges in America.
Chef Roy Choi of the famous Kogi Food Trucks will be at the movie and be on hand for a short interview before the film. Choi gained nationwide attention for his innovative Korean tacos served from his Kogi Food Truck, which will be at the outdoor movie.
"Food for Thought" is presented as part of the Great Park's health and wellness initiative that includes the Farm & Food Lab, Gardening Workshops, Farmers Market and education programs. The series began with a lecture from nationally-recognized food expert and activist Mark Winne, and continues with three award-winning documentaries: "King Corn" on April 21, "Food, Inc." on May 19, and "Dirt! The Movie" on June 9.
Each night you can bring a picnic to enjoy on the lawn or buy dinner from a gourmet food truck. Admission and parking are free, and visitors should bring blankets or beach chairs to sit on the lawn. Warm clothing is recommended and visitors are welcome to bring picnics and movie snacks.
Come back Sunday for the Great Park Farmers Market where shoppers can buy fresh locally grown fruits and vegetables and enjoy a wide variety of gourmet food trucks.
For more information, please visit www.ocgp.org.
####