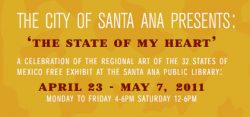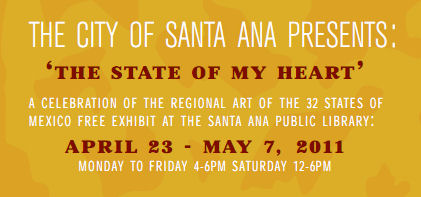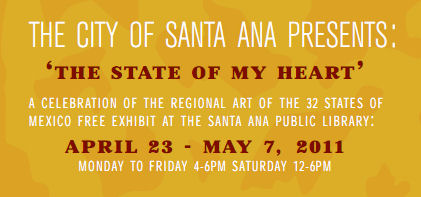 FOR IMMEDIATE RELEASE
April 18, 2011
CONTACT: Gerardo Mouet, Executive Director, Parks, Recreation, and Community Services Agency, (714) 571-4204, Santa Ana Public Library

SANTA ANA SHOWCASES ICONIC MEXICAN ART
SANTA ANA, CA – On April 23rd, the City of Santa Ana will open its first annual exhibit of the arts of the Mexican states. The State of My Heart/El Estado de Mi Corazon exhibit will showcase the diversity and power of the artistic creativity of the states of Mexico. Thirty two pieces of art – one from each state and the Distrito Federal – will be displayed for the public at the Santa Ana Public Library from April 23rd through May 7th. There will be three additional art pieces to celebrate the Vietnamese, African-American and Cambodian Cultures.
The art ranges in age from pre-Columbian to contemporary, and includes such media as cave paintings, ceramics, sculpture and paintings. Some of the artists are famous, some little known, and some completely unknown, but all of the art is both arresting and representative of the spirit of the state from which it comes. Through the exhibit, visitors can explore the many and varied cultures of Mexico.
The exhibit will also feature a video production of oral history interviews with immigrants from many of the states, describing their lives in their homelands and their experiences in the United States. The run of the exhibition will conclude on May 7th with a special production of a one-act
play written and produced by local youth talent. The play lets the major players in the Mexican revolt against the French speak for themselves, describing the events of May 5th, 1862 that freed Mexico from French rule, as seen through their own eyes.
The Santa Ana Public Library is located at 26 Civic Center Plaza in Santa Ana. The exhibit may be viewed from 3:00 pm to 6:00 pm Monday through Saturday, April 23rd through May 7th. Admission is free.
THE SANTA ANA PUBLIC LIBRARY IS LOCATED AT: 26 CIVIC CENTER PLAZA (corner of Civic Center and Ross)
-End-