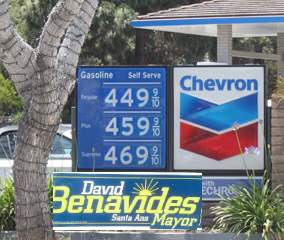 "As early voting begins, Californians are dealing with a new cost crisis as gasoline prices explode upward all over the state. The five-dollar a gallon figure was crossed at a number of gas stations at the end of last week while other stations closed down for lack of supply," according to Joel Fox, the Editor of Fox & Hounds and President of the Small Business Action Committee.
That could be bad news for Santa Ana Mayoral challenger David Benavides and his left-wing Council majority.  Benavides and his allies – Council Member Vince Sarmiento and Council candidates Eric Alderete and Roman Reyna, have all said, at a public candidates' forum that they support every single tax increase measure on the Nov. 6 general election ballot, including Prop. 30, which "increases the sales tax, which is applied to gasoline sales," according to Fox & Hounds.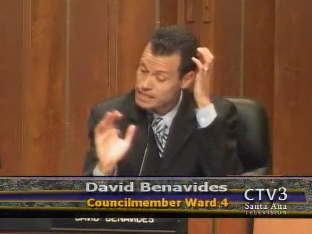 That's right – Benavides and company support raising your gas prices even more!  But wait, they also support Prop. 38, yet another tax increase.  And Measure Q, a property tax increase.
"If voters feel burdened by the gasoline costs and the increases in products, such as produce, which are sensitive to increased transportation costs, that could effect their decision on raising taxes," according to Fox & Hounds.
Other Democrat electeds are also starting to wince over the high gas prices, including U.S. Senator  Dianne Feinstein of California, who is up for reelection.  She "has called for an investigation in a letter to the Federal Trade Commission, accusing the agency of  "failing to take action to protect California consumers from malicious trading schemes in the California gasoline market," according to the L.A. Times.
Will Santa Ana's voters opt for higher taxes and higher gas prices by voting for Team Benavides?  Do you really feel you are undertaxed?  I am guessing the answer is no and Team Benavides is doomed!