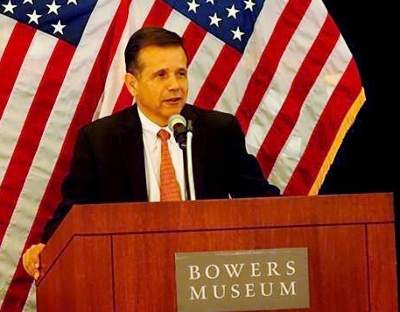 I saw mayoral candidate Sal Tinajero speak at several campaign events leading up to the Nov. 6 General Election. Every time I heard him he was incredibly nasty – and his diatribes were at best filled with half-truths. The voters, needless to say, didn't buy his act and Santa Ana Mayor Miguel Pulido beat him convincingly.
But Pulido is going to term out in two years. What will happen then?
I suppose Tinajero might run again but he is terming out this year so he won't have the benefit of the "City Councilman" ballot title. And the apartment developer who largely funded Tinajero's campaign this year likely won't do so again.
The obvious candidate to replace Pulido is Ward 3 City Councilman Jose Solorio. Of all the likely candidates Solorio figures to pick up support from the same interests that have always backed Pulido. And Solorio has a huge campaign warchest of his own.
Other candidates that might emerge include:
Any one else come to mind? I suppose there might be a few surprises. While Solorio has several key advantages there will be a lot of interest in the Mayor's position, particularly because Mayor Pulido has held it for so long.