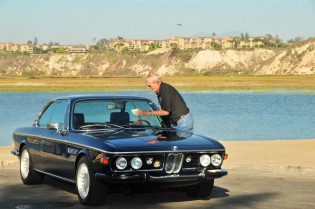 Cars & Cockpits – BMW, on March 6 at the Lyon Air Museum
CLASSICS INCLUDE BMW 'BLUMAX' 1969 E9 2800CS WITH WORLD RECORD 417,000 MILES
SANTA ANA, Calif., February 25, 2011—Lyon Air Museum, a premier Southern California showcase for vintage military aircraft and automobiles, is scheduled to host dozens of rare BMW sports cars as part of "Cars & Cockpits Day," scheduled for Sun., March 6, 2011, from 10 a.m. to noon at the facility, located at John Wayne Airport in Orange County. (NOTE: Weather permitting—rain would cause cancellation of the event.)
The classic BMW vehicles will be driven by owners from across Southern California, including Orange, Los Angeles, San Diego and San Bernardino counties. One enthusiast is even flying in from Vancouver, British Columbia. Also participating will be rare cars from the collection of Santa Ana dealership Crevier BMW, as well as two new special BMW preview models. Crevier BMW is the nation's top seller of BMWs by volume. Gourmet food trucks will also be stationed at the Museum ready to serve hot refreshments.
"This special event has a definite excitement factor because it presents Museum visitors with an exceptional opportunity to view some of the rarest BMW cars, like the early coupes," said Mark Foster, president of Lyon Air Museum.
One such vehicle is a two-door, six-cylinder 1969 E9 2800CS model owned by Murray Fowler, 82, of Costa Mesa, Calif. The car (license plate "BLUMAX") has the unique distinction of being the highest mileage BMW of its type in the world with 417,000 miles on the odometer.
"I bought BLUMAX from the original owner thirty-nine years ago and, except for the wheels, most of the parts are original," said Fowler. "Technically, my E9 is un-restored while remaining in very fine show condition."
According to Fowler, BLUMAX is the 16th E-9 from among a total of 3,721 built on order from Hoffman Motors for the North American market. The E9 platform was very successful in racing and helped to establish BMW's status as a sport driver's car.
BLUMAX was delivered to its original owner—a young U.S. Army officer from San Marino, Calif. stationed in Germany—at the Munich factory on October 1, 1969. Since Fowler took ownership, the coupe (which he also used as his primary business car in Orange County for a few years) has travelled across the U.S. Canada and Mexico numerous times. He estimates that he has driven more than 500,000 miles in the BLUMAX and similar autos. Fowler and BLUMAX are featured in a video produced by BMW (and available on YouTube) that is part of a series called "Unscripted" in which everyday owners talk about their life and passion with BMW vehicles.
The 30,000-sq.ft. Lyon Air Museum opened in Dec. 2009. The facility represents the fulfillment of a dream of Maj. Gen. William Lyon, USAF (Ret), who held the position of Chief of the U.S. Air Force Reserve from 1975 to 1979. Currently, Gen. Lyon is Chairman of the Board and CEO of William Lyon Homes, Inc., Newport Beach, Calif. His passion for aviation history and youth education is the driving force behind Lyon Air Museum. In establishing the Museum, Gen. Lyon sought to create a world-class facility that would be available to the local community and would offer educational exhibits designed to inspire young people. The Museum has on exhibit some of the world's rarest operational aircraft and vehicles.
Lyon Air Museum is located at 19300 Ike Jones Road, Santa Ana, CA 92707. P: 714/210-4585. F: 714/210-4588. Email: info@lyonairmuseum.org. Web: www.lyonairmuseum.org.
Hours of operation are daily from 10 a.m. to 4 p.m. Admission rates: General admission–$8; Seniors and Veterans–$6; Ages 5-17–$4; Under age 5—Free. Groups of 10 or more–$1 off each visitor. Pre-arranged school groups—Free.
Media Contact: Ned Madden
Rodheim Marketing Group
949/547-0143