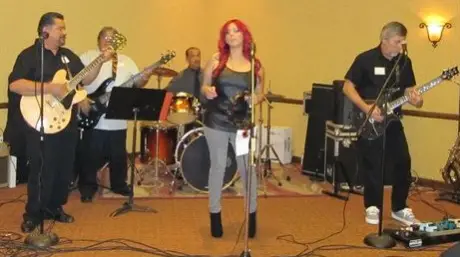 Joe Ace Proof Bar, Ace Entertainment & Aztlan Soul Present: Lonely Hearts Karaoke Night –  Grand Opening on Valentine's Day, February 14, with a very special live performance by Aztlan Soul!
To make this a special opening we are having a real Band (not a Karaoke one) play to kick things off right! Enjoy the sweet sounds of Aztlan Soul, laying down a set of R&B, Old school, Disco, Tex Mex, & Latin music to get your juices flowing for a night of Karaoke.
Don't have a date for Valentine's Day? Come join the rest of the Lonely Hearts Club and lets form a Karaoke Band!
Taking all requests and videomixing all of your favorite in Rock N' Roll, Cumbia, Banda, Rock en Espanol, Corridos, Top 40, and Dance.
This is a very special night for Aztlan Soul, as this is their first public appearance!! All support is very much appreciated!
Proof Bar is located at 215 N Broadway St., in Downtown Santa Ana.  Click here to RSVP on Facebook.
Aztlan Soul is: James (Guitar and lead vocals) , Bill (Bass Guitar) , Glenn (Lead Guitar) Geano (Drums), Rosie (Lead female Vocals), from La Mirada.  For booking please email: aztlansoul@yahoo.com.  Click here to see several videos of Aztlan Soul in action!