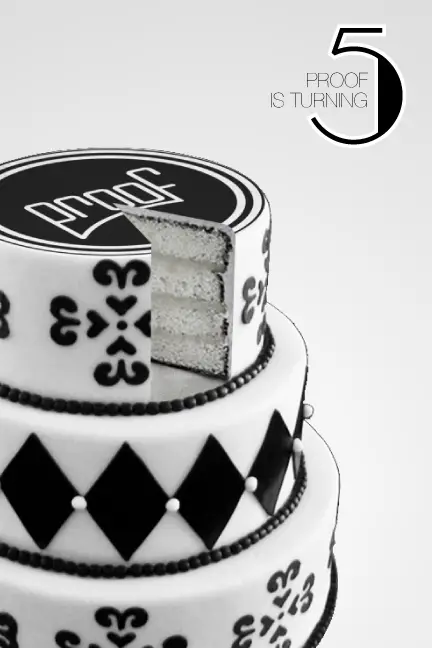 Can you believe?  Santa Ana's Proof Bar is turning 5!  And they are celebrating with a big party on February 18.
Here is a bit of history about Proof, and details about their party, courtesy of their website:

When 3 partners opened Proof in February 18, 2006, they had no idea what they were doing and even less idea of what they were getting into. We just knew that an opportunity to open a new bar in a new location had not been available in the county for over 25 years, so we jumped headfirst. We originally had hopes that Proof would be a lounge-style conversational bar that saw host to things like acid-jazz quartets and experimental live performances. A place where you meet up for a chat and a drink. The term "DJ" was not on our minds and dancing, well dancing is a different story altogether.
As we began preparations for our One Year Anniversary, it became painfully evident that the "conversational" bar was not going to pay the bills. We were struggling to stay open and the partnership was showing some strains. After losing a partner to a buyout, we started trying new ideas. Many familiar with Proof for more than a couple years, know what happens next. After going through some different promotions and musically themed nights, a group of rag tag locals would come in and see how the venue was performing and thought they could do better. With no promotional experience, and also with a partnership of 3 that ended up being 2, the duo known as MUTE97 emerged to not only host the most successful weekly in the venue, it went on to an incredible 3 year run and to become a footnote in the then burgeoning electro scene and host to tens of thousands of fans during their stint. There was a line out the door for months and months. Along with a long running Saturday night called TRUST, Proof went on to become known as a weekend destination to see and hear DJs you weren't gonna find at the beach bars or restaurants-turned-nightclubs; music and performers you usually would have to drive to LA to enjoy. It was a performer driven scene and we were all big fans. We worked hard to always be bringing in new and interesting turntable artists and we almost always kept it free. Drinking fuels many things and it keeps many a DJ alive via paid gigs, cover charges are to be avoided at most costs. When you find yourself paying a cover to get in somewhere, ask yourself where that money is going. If the answer is 100% towards the talent, than you may have a chance at getting your money's worth.
The years have been both hard and kind to us. Trying to keep the peace when you have hundreds of drinkers coming through your doors can be a challenge at times. But part due to luck and part through diligence, we tend to see a vibrant and diverse environment with very few problems. We have also broadened our horizons back into LIVE instrumental music and have through the efforts of many hungry and up and coming bands, as well as a person we will just call Virtigo, generated a legitimate Sunday night LIVE music scene in the heart of OC: "The Wreck Hall" continues to blow our minds with the line-ups and performances of a completely grass-roots scene (many bands have played for drinks, gas money, or less) and embodies the pull-yourself-up-by-the-bootstraps mentality which we celebrate.
In the midst of it all, you have notable births and deaths, marriage proposals & marriages, midget photo booths, g-string-clad samba dancers, aerial performers, jugglers, comedians, politicians, respected police & fire men/women, bachelor/ette parties, birthday parties, all kinds of parties, vomiting, broken glasses, broken just about anything that can be broken, art shows, stolen art, smuggled bottles, botched drugs deals, vandalism, debauchery, flirting, sexual escapades, break-ups, meetings, countless shots, beers, very-hard-to-find-beers, cocktails, party punches, jello concoctions, green drinks, boat drinks, purple drinks, strong drinks, and countless upon countless hours of music, adult beverages, and great times.
We have so many people and entities to thank for all that we are lucky to have experienced over the years. First and foremost, to the drinkers! Without you, we would not be here. Bartenders, doormen, barbacks, cocktail waitresses, graphic designers, servers, promoters, downtown business districts, friends, family, supporters, MCs, dancers, web designers, managers, so many bands, photographers, make up girls, lighting engineers, sound guys, local leaders, city workers (especially to the two 24 hour services), artists, regulars, other bars, hosts, busboys, competitors, and yes, very many talented and hard working DJs that stroll through our little place and keep the musical dialogue going with the masses…we thank you all for 5 years.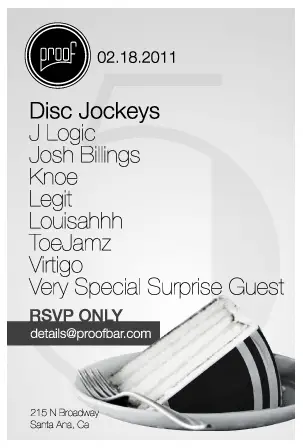 This party will be 2 events rolled into one. From 6-10pm we will be running the "THANK YOU" drink special, providing entertainment, hosting a fine art photography art show, AND we have hired the infamous Dos Chinos gourmet food truck to give out "free" tacos for all of our guests. Repeat, we will be buying our guests tacos from 6-10pm or until they run out of tacos or we run out of money. You will receive vouchers for tacos inside the bar. AND THEN, From 10pm-3am, we're gonna turn the volume up and keep it going into the after hours. We're switching on a killer light display & hosting 8 different world-class professional DJs who will each play different styles of music but are guaranteed to take you places you've never been before. Vinyl and digital. House, funk, disco, electro, 80s, punk, hip-hop, dub, reggae, oldschool, rock, indie, obscure. You name it. They got it. Come early! Stay late! Just don't bring the kids because this party is for adults only. As every other night of the year we are strictly 21 and over. We will stop serving alcohol at 1:30am and start asking you for your beverages at around 1:45am. ALL ALCOHOLIC BEVERAGES MUST BE OUT OF EVERYONES HAND BY 2:00am. NO EXCEPTIONS. Bottled water will be provided free of cost but we will not allow any glassware or bottle of beer to remain out. We are a bar and we very much respect the license which we've been given to dispense alcohol to the public for sale. Please let us or any of our staff know if you would like a cab or driver arranged for you ahead of time. This will be a party not to miss.
This event will be strictly RSVP only. This event will not be open to the general public but will be free to all those who respond. To RSVP send an email to info@proofbar.com, make sure you include "RSVP 5th" in the subject line. RSVP will be limited to you plus 3 guests. The guestlist will close on Feb. 16 or when we reach our predetermind cap. So if you haven't yet, RSVP as soon as you can because we expect to reach our cap next week. If you would like to book a larger party please submit your RSVP as ordinary & you will receive an email response and we will attempt to secure you a reservation.
Check the website for a small "thank you" to all that have made us a success for so long and more details as things start to come together. Remember, if you want to encourage a friend to sign up for this email list to receive this email next week, direct them to the website.
The "THANK YOU" drink special, free gourmet tacos by Dos Chinos, giveaways, prizes, light shows, art installations, surprise guests, and the usual debauchery. Finally, to those who could not make it because they are out of town, passed on or possesed, we will be having one for you! The rest of you, we will see you at the bar.