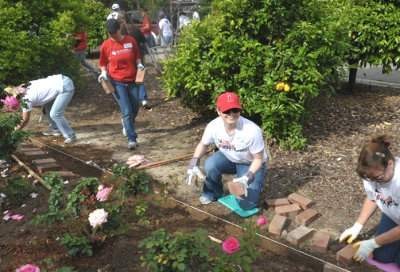 Robert Wayne Footwear and Timberland Assist to Restore Heritage Museum of Orange County's Children's Garden
Heritage Museum was proud to host a volunteer day with Robert Wayne Footwear and Timberland complete with fruitful gains for their children garden
SANTA ANA, CALIF. – Robert Wayne Footwear and Timberland partnered up with the Heritage Museum of Orange County to restore and rebuild the museum's children garden. The local organization and many of their employees dedicated several hours of their day to rebuild the garden and purchased vital items to help maintain the garden physically and aesthetically. Robert Wayne Footwear and Timberland efforts included beautification as they purchased plants for the garden and other parts of the natural area of the museum. In addition, they provided the museum with tools to create and raise beds in the farms as well.
The Children Garden is a part of the museum's natural area which also includes two farms and a swamp. The purpose of the children's garden often called a "Sensory Garden" by student visitors from Mitchel Development Center is to help develop and mature their sensory skills. Many students at this center are autistic and the garden plays a vital role in enhancing their skills. When the garden is not use for this purpose, school age youth in Pre-K and Kindergarten plant seeds in one of our many educational programs called Change of Seasons.
Heritage Museum of Orange County is a cultural and natural history center dedicated to preserving, promoting, and restoring the heritage of Orange County and the surrounding region through quality hands-on educational programs for students and visitors of all ages. For more information, visit http://heritagemuseumoc.org/.
Robert Wayne Footwear and Timberland is independently owned and operated, and many of its employees have been with the company for many, many years. Robert Wayne was one of the first retailers to sell Dr. Martens, and is currently the premier destination for Converse, Vans, Puma, Adidas, Timberland, UGG Australia, Lacoste, Sperry Top-Sider, New Balance, Birkenstock and Polo Ralph Lauren. Robert Wayne is headquartered in state of the art facilities in Commerce, California, and its stores are all located in large, regional malls and outlet centers.
On Behalf of the Heritage Museum of Orange County, we would like to extend gratitude and appreciation for the service Robert Wayne Footwear and Timberland has provided for the museum. We appreciate this organization's dedication in helping us fulfill our mission to offer hands-on educational programs to youth in Orange County. And we look forward to work on more projects together in the future.
###
Contact: Jose Mendoza
Director of Volunteer Programs
Heritage Museum of Orange County
3101 West Harvard Street
Santa Ana, CA 92704
714-540-0404 x. 227