I get a little tired about the constant bashing of Santa Ana.  Yes the ongoing gang war sucks but there is still a lot to love about our city, such as:
$3 movies at the MainPlace Mall
When a new movie comes out my kids and I will quickly label it as either a "must-see" or a "$3 movie."  Most films are in the latter category (and a lot of them end up on our Redbox and Netflix list). While I would love it if there was a first run movie theater in Santa Ana I really like being able to go to the Picture Show at the MainPlace Mall to see movies that have been out for a few weeks, if not months, for only $3 (and only $2 on Tuesdays).
The MainPlace Mall
I really dislike South Coast Plaza. Who can afford what the stores there have to offer?  But the MainPlace Mall is just the ticket with a decent array of stores and anchors and a great food selection that now includes wood-fired pizza at Blaze Pizza and bbq ribs at the new Lucille's.  There is ample parking and two frozen yogurt places – plus my eye doctor. The previous owners of the MainPlace Mall, Westfield, just sold the shopping center to a group of developers. I hope they don't mess it up!
The Artists Village and Calle Cuatro
The gentrifiers have tried to kill Calle Cuatro but it is still there in DTSA. Downtown Santa Ana now has an eclectic mix of restaurants, bars and entertainment as well as an Artists Village that is anchored by the CSUF Grand Central Art Center. The monthly Art Walk is free and offers folks an opportunity to pretend they are hip. And if you have not visited the City's many street festivals, such as the Cinco de Mayo and Fiestras Patrias events you are really missing out!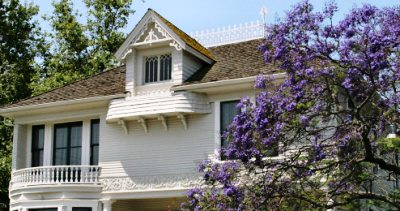 The Heritage Museum of Orange County
This wonderful place is tucked away by Centennial Park, but you really ought to go visit the Heritage Museum of Orange County when you have some time. They are a cultural and natural history center in Southern California, set on 12 acres, featuring several buildings from the 1890s set amid extensive floral gardens and citrus groves, including the Kellogg House. And if you love to find out about our city's history be sure to check out the Santa Ana Historical Preservation Society's website. And visit the beautifully restored Howe-Waffle house in DTSA.
The Santa Ana River Trail
Yes you can ride your bike from Santa Ana all the way to Huntington Beach, on the Santa Ana River Bike Trail. The Santa Ana River Trail is a 12-foot wide path following the Santa Ana River, a waterway that is cement-lined through much of Orange County but free flowing in Riverside and San Bernardino counties. The popular trail, currently open in two disconnected segments, links inland neighborhoods, businesses and shopping districts with the beach, according to TrailLink. The Santiago Creek Bike Trail is also a lot of fun. The Santiago Creek Trail is a scenic urban ride up a portion of Santiago Creek northeast from the Westfield MainPlace Mall to Collins Avenue in Orange. From Collins Avenue, the trail heads south to parallel E. Prospect Avenue then picks up E. Bond Avenue to Hewes Street, north to Villa Park Road and east again to end just north of E. Santiago Canyon Road along Cannon Street, according to TrailLink.
All the great Tacos!
There are so many great Mexican restaurants in Santa Ana. And it is not just the tacos – you have to love the tortas, the menudo and pozole and of course the tamales. You can also find a few Central American and Latin American restaurants in town with specialties from Peru and El Salvador.
Little Saigon
There was a lot of angst when Little Saigon crept into West Santa Ana. But go to any of the Pho restaurants on the west side and you will find many happy Santa Ana residents enjoying great Vietnamese food.  The influx of Vietnamese people into our city has made us more diverse and the kids have raised the bar at our public schools.
High School Athletics
There is a lot wrong at the SAUSD including low literacy rates, low graduation rates and high dropout rates. But our high school football teams were awesome this season. And high school baseball, basketball, wrestling and soccer teams offer our kids a chance to earn college scholarships.  And what an entertainment value!  High school football games in particular are a lot of fun to watch at a very low budget.
Youth Baseball, Soccer, Football and Basketball
The best way to keep kids out of gangs is to keep them busy – and that is exactly what our youth sports leagues do.  From the historic NESALL (Northeast Santa Ana Little League) to the newer Pony Baseball, our kids have plenty of opportunities to learn America's pastime. And if baseball doesn't do it for them we have city and private flag football, tackle football, basketball and soccer leagues galore.
Santa Ana College
While it is true that our Rancho Santiago Community College District Trustees are overpaid and waste too much public money on field trips and expenses the fact remains that Santa Ana College is a real gem, right in the heart of our city.  And I love the fact that our residents can finish their high school degrees for free at Santa Ana College's extension campus at Centennial Park. And Santa Ana College has evolved with a very cool Digital Media Arts program.  Now if only we could convince the Santa Ana College Foundation to cancel their project in Saudia Arabia, where women are second class citizens and Jews are openly hated…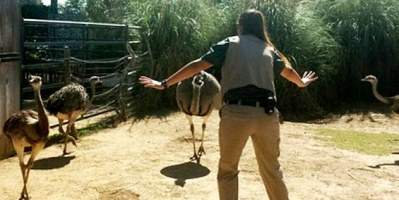 The Santa Ana Zoo at Prentice Park
I wish the Santa Ana Zoo had stayed small and cheap but they have expanded and still offer a day of fun for not a lot of money. It is a great place in particular to take toddlers.  You can check them out for free once a month if you live in Santa Ana.
The Neighborhoods
You really have to credit the active neighborhoods in our city.  Floral Park puts on an annual Home and Garden show that attracts a lot of attention. Park Santiago has a fun annual 4th of July Parade.  And there are many more neighborhoods that are working to improve our city.
The Wild Parrots
There are a lot of tales about where Santa Ana's wild parrots come from ranging from a pet store that caught fire to a train that derailed – letting loose a cargo of wild parrots. Who knows that the truth is but it is pretty neat to see the large flocks of Wild Parrots flying around our town.
The Bowers Museum
This museum started out dedicated only to local history museum but today they are a world-class museum with all sorts of interesting exhibits. They offer a free day every month to residents and all sorts of free family events.
The Discovery Cube
The Discovery Cube has expanded their facility and continues to provide education and fun for our kids. They have even expanded into L.A. with a second operation.  But they started right here in Santa Ana. They also have a fun Kidseum and both offer a monthly free day to Santa Ana residents.
The Park Santiago Nature Reserve
The Park Santiago Nature Reserve offers a nice hiking and bike trail and chances to see wild birds including owls and hawks and other critters, particularly ground squirrels. And when you get hungry you can walk across the street to the CityPlace shopping center and visit their many restaurants and the offerings at Mother's Market.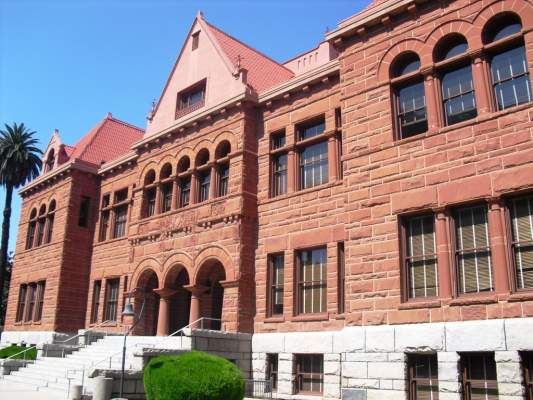 The Civic Center
I had to renew a few DBAs the other day. It was so convenient being able to take a short drive to the Orange County Clerk-Recorder's office in Downtown Santa Ana. It is just one of many advantages offered by being the Orange County seat. Granted the Civic Center has become a magnet for the homeless but when I was there recently I noted that Orange County Social Services is now there every day trying to help the homeless.  Now if only they would open a homeless shelter over at the vacant OCTA bus depot… By the way treat yourself and be sure to visit the Old Orange County Courthouse some time.  Fun place to visit!
So Many Churches!
Santa Ana once was known as the City of Churches and there are still a lot of churches in town, from mega churches like Calvary Church to newer, hipper churches like Newsong, and the many historic Catholic churches in town.  And don't forget Templo Calvario!
Charter and Private Schools
If regular public schools are not what you want for your kids we have a lot of great charter and private schools in town including the famous Orange County School of the Arts and the renowned Mater Dei High School.
Feel better about Santa Ana now?  Let me add that there are a lot of great people here. I have made so many friends because of my 12-year-old son's involvement in Little League Baseball and the Boy Scouts.  Yes we have a gang problem but we also have a lot of decent hard-working families.  Let's not lose sight of that!