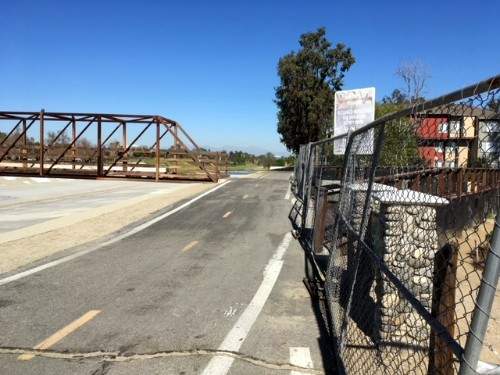 The Board of the California State Coastal Conservancy has awarded a $544,000 grant to the City of Santa Ana for final design and restoration of the Santa Ana River Parkway Triangle Park along the Santa Ana River Bike Trail.
The 17th Street Triangle project develops the undeveloped area to provide a rest stop along the Santa Ana River Bike Trail and to increase public use of the bike trail system. The 17th Street Triangle/Rest Stop includes renovation of the viewing deck with ADA accessibility, riparian landscape, benches, site signage, location/interpretive signage and fencing.
"This grant will aid the City of Santa Ana in its efforts to enhance and expand our infrastructure to serve all modes of transportation," Santa Ana Mayor Miguel A. Pulido said. "Creating additional outdoor recreational opportunities is critical to improving our residents' quality of life in one of the most densely populated cities in the country."
The Santa Ana River Bike Trail is approximately 28 miles long in Orange County. Five miles of the Trail run parallel to the Santa Ana River through Santa Ana and provides bicycling and hiking connections to six parks within the city.
The Triangle Park improvement is one of 18 projects statewide that received a total of $18 million from the Coastal Conservancy to protect and restore the California coast and San Francisco Bay, and increase public access to these natural resources.
"I encourage staff at both the Orange County Water Department (OCWD) and the City of Santa Ana to look for opportunities to revitalize the areas surrounding the Santa Ana River and Santiago Creek," said Ward 1 Councilmember Vicente Sarmiento. "Through projects such as this, we can beautify the community while simultaneously preserving water resources and enhancing environmental sustainability."
"This grant will help encourage safe mobility, promote healthier lifestyles and increase usage of our bike trail and growing bike lane system by the Santa Ana community," Ward 2 Councilmember David Penaloza said. "Happy to see this type of investment and looking forward to seeing more."
Ward 3 Councilmember Jose Solorio stated:
"Santa Ana wasn't built with a lot of parks, but we're bringing in new ones every chance we get. This Triangle Park is much welcomed and I can't wait to take a stroll through it."
"It is wonderful that the City of Santa Ana has been awarded a grant for the final design and restoration of the Santa Ana River Parkway Triangle Park," said Ward 4 Councilmember Phil Bacerra. "I grew up near this park, so I know that when it is completed, this project will enhance the environmental and recreational opportunities along the Santa Ana River."
Mayor Pro Tem Juan Villegas of Ward 5 added:
"I am looking forward to the final design and restoration of the park and trail. This will create new job opportunities and will benefit the community. Bikers, hikers, joggers and other trail users in Santa Ana will have more options for their outdoor activities."
"I am thrilled to have the bike trail upgraded for the public's comfort and to enhance nature's beautiful view," said Ward 6 Councilmember Nelida Mendoza. "As a bike rider myself, it is important to have rest areas where the public may feel safe and take a moment to re-energize, check your bike, and take a drink of Santa Ana's cool and purified water. When you see me on the bike trail, give me a smile and a wave. I hope you enjoy this rest stop often!"
For more information on the Coastal Conservancy grants, visit https://scc.ca.gov/.
(IMAGES: Current bike trail by Triangle Park and project concept drawing.)