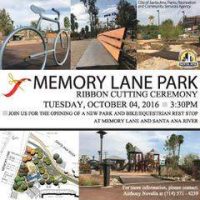 City of Santa Ana
Community: Memory Lane Park Ribbon Cutting Ceremony/ Ceremonia de Inauguración del Parque Memory Lane
SANTA ANA, CA – The City of Santa Ana invites you to the Memory Lane Park Ribbon Cutting Ceremony on Tuesday, October 4, 2016 at 3:30 p.m.  Located along the Santa Ana River Bike trail and Memory Lane, this new half-acre park was created to offer recreational opportunities to the community and provide a charming rest stop for joggers, bicyclists and equestrian riders along the Santa Ana River.
Influenced by native landscaping including a river rock bio-swale basin to mimic the local river, Memory Lane Park is sure to become the little hidden gem in the center of the City.  This modern recreational area includes hitching posts and watering units for horses; bike racks and fix-it equipment for bicyclists; as well as fully equipped play and fitness areas for general users. Along with these amenities, this enchanting park also includes picnic tables, drinking fountains, river rock shade structure, and a curving granite trail along native succulents and plants.
Local residents, businesses, Santa Ana River trail users and the general public are invited to join us in celebrating this new park for the community.  Light refreshments will be provided. For more information, please visit www.santa-ana.org or contact the Parks, Recreation and Community Services Department at (714) 571-4239.