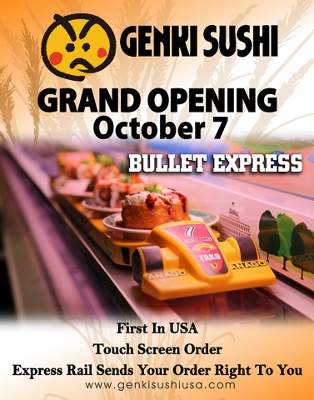 Genki Sushi, located at Santa Ana's MainPlace Mall, is launching their new Bullet Express with a new Grand Opening on October 7. The grand opening festivities will include door prizes for the first 200 customers! The doors will open at 11 a.m.
This new ordering system will feature a touch screen – and the freshly made sushi will be delivered to your table on an express rail (as pictured above).
You can check out Genki Sushi's menu here. Their prices are very reasonable. For example you can order a Spicy Tuna Roll for only $2.80. A Spider Roll is only $4.60.
They offer alcoholic beverages too, including Asahi Beer ($4) and what they call a Sake Bomb set, for $7, that includes a small bottled beer and a cold House Sake. You may also order organic green tea, with free refills, for only $1.20, served hot or cold.
The story of Genki Sushi began with the vision of a 24 –year old Japanese sushi chief, Fumio Saito. Saito dreamed of creating a modern sushi restaurant with an unusual feature known as "kaiten sushi" (literally translated as "revolving").
In December 1968, he created the concept of "kaiten sushi" and pioneered the use of a revolving conveyor belt to serve sushi, combining serving traditional sushi with modern technology.
The new concept caught on fast in Japan.  The success of kaiten sushi saw the opening of outlets in the prefecture of Tochigi in the Kanto region and in a town named Utsunomiya.
Genki Sushi is located at 2800 N. Main Street #1040, at the MainPlace Mall in Santa Ana. Call them at (714) 972-4677 or email them at gsmainplace@magicallyyours.net.