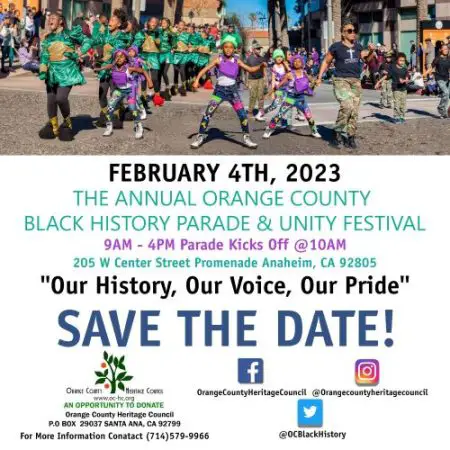 The 43rd Annual Orange County Black History Parade & Unity Festival is set for Feb. 4 with a 9 a.m. Parade Pre-show, at 200 S. Anaheim Blvd., in Anaheim.
The event starts at 9 a.m. with a blessing of the city, followed by the community parade.
Event Schedule:
10 a.m. – Celebrity Meet & Greet. The Parade steps off on Anaheim Boulevard (featuring marching bands, floats, community units, dignitaries).
12 pm – 5pm Unity Festival (Music Fest, Health Village, College Faire, Youth Village, Vendor Booths, Food Court & Food Trucks, Custom Car & Motorcycle Show- 3 stages)
Parade Route: Starts at Anaheim Blvd/Lincoln Avenue, marches south to Water Street and return to Anaheim City Hall.
Unity Festival: Center Street Promenade at 201 S. Anaheim Blvd., Anaheim, CA 92805.
Website Info: http://bit.ly/OCHeritageCouncil
SUBMIT TALENT/MARSHALLS: info@krprmedia.com.
Other black history events set for this month in February include:
Feb. 4: The main library at 26 Civic Center Plaza, Santa Ana, will host a conversation at 1 p.m. on Feb. 4 with Jayne Allen, author of the series "Black Girls Must Die Exhausted" and creator of an online book marketing course. The discussion will center on writing and furthering diversity in book publishing. Books will be given away first come, first served.
Feb. 23: The main library will also host a free screening of Disney/Pixar's "Soul," at 4 p.m. Attendees will receive a jazz-themed craft to take home. Information: 714-647-5250
Month-long: Santa Ana College will have events all month long on campus, from performances to community talks. On Feb. 28 at noon, a Q&A will feature female Black community leaders, including Huntington Beach Councilmember Rhonda Bolton, Tustin Councilmember Letitia Clark, Costa Mesa Councilmember and Orange County Superior Court Judge Karen L. Robinson. There will also be a traveling exhibit on display with more than 20,000 artifacts celebrating Black history. Information: sac.edu/bhm