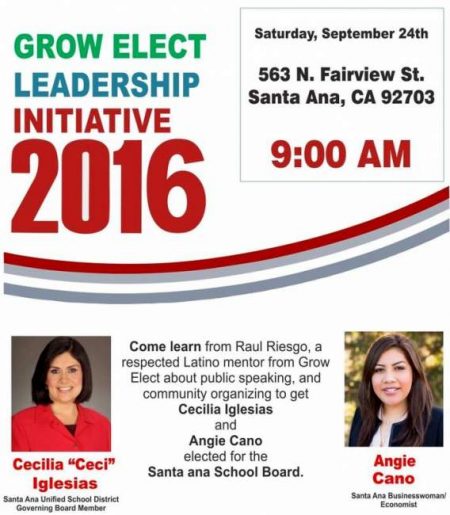 Grow Elect is hosting a Leadership Initiative meeting on Saturday, Sep. 24, 2016, at 9 a.m., at 563 N. Fairview St. in Santa Ana.
Raul Riesgo, a member of Grow Elect, will be talking about public speaking and community organizing with the goal of electing Ceci Iglesias and Angie Cano to the SAUSD School Board in the November Primary Election. 
Iglesias currently serves on the SAUSD School Board and is running for reelection. Cano is an SAUSD grad who got a degree at UCI and has come back to serve the people of Santa Ana.
GROW Elect has a record of helping win tough elections and our efforts have been endorsed by numerous national and state Republican leaders including former Secretary of StateCondoleezza Rice, House Majority Leader Kevin McCarthy, former Governor Mitt Romney, former Governor Jeb Bush, Senator Marco Rubio, California Senate Republican LeaderBob Huff, and Assembly Republican Leader Connie Conway, among many others.
Making a Difference – Building a Farm Team
The Latino Republicans we have helped elect are making a real difference in their communities fighting for Republican principles of fiscal responsibility, economic growth and job creation, education reform, and government transparency. Some of our elected officials have been on the frontlines of cleaning up city governments known for their corruption and fiscal mismanagement.
What's more, a number of the Latino Republicans we have helped elect constitute a Farm Team of future GOP candidates for higher office who reflect the diversity of California and can take the Republican message of opportunity to every neighborhood in our state.
Modernizing and Rebuilding the Republican Party
GROW Elect is committed to empowering the Latino community within both the Republican Party and in the halls of local and state government. We believe political competition within the Latino community leads to more effective and honest government and more accountability for elected officials.
We are also working to rebuild the Republican Party and modernize it to compete throughout California so that all voters have a real choice when they cast their ballots.