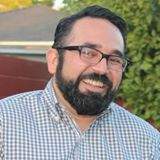 Santa Ana Mayoral candidate Benjamin Vazquez looked like a longshot when he first announced his campaign against longtime Santa Ana Mayor Miguel Pulido. Now I'm not so sure about that as Vazquez has picked up a couple of major endorsments.
Vazquez has been endorsed by both the Democratic Party of Orange County and the Orange County Young Democrats.  While neither of these organizations are likely to pump much money into Vazquez' campaign coffers they are notable endorsements – and they hint at what might be a gathering storm for Pulido.
Vazquez was born and raised in Santa Ana and he is a product of Santa Ana's public schools. He earned a Master's of Education from UCLA. He has taught at local public schools for 14 years and currently teaches at Valley High School. He is a long time Community Organizer and he has tried to bring pride to Santa Ana by organizing events like Noche de Altares, Dia del Niño, an Annual Children's March, I Bike Santa Ana, and Musica en Movimiento.
Pulido has a degree in engineering from CSUF. His family lived in Fullerton originally and some of his siblings still live there. Pulido's dad owned a muffler shop here in Santa Ana that at one point was threatened by the City Council which wanted to seize the muffler shop via eminent domain and use the property for something else. Pulido was able to galvanize the community to save his dad's shop and in so doing he ended up moving to Santa Ana and becoming a politician.
Vazquez and Pulido clashed this week at a candidate's forum at the Delhi Center, as reported by the Voice of OC.
Pulido emphasized spending more on police to crack down on crime. Vazquez instead emphasized investing in youth and building stronger trust between police and the community.
Regarding the homeless, Pulido said more services should be provided, but added that he didn't want to provide more services than other areas and make Santa Ana "a magnet" for homeless people. Vazquez argued for transitional shelters to help get people into housing.
On affordable housing, another major campaign topic, Vazquez proposed requiring developers to devote 40 percent of housing in new projects to affordable housing, up from the current 15 percent. Pulido said there's already been a lot of housing built in Santa Ana, with another 2,000 units in the pipeline, and that it's time for other cities to step up.
Vazquez has been endorsed by three Santa Ana City Council Members. Pulido has only been endorsed by Mayor Pro Tem Vince Sarmiento.
Vazquez criticized what he described as the neglect of poorer central neighborhoods under Pulido's leadership, where potholes go unfilled for years while they get fixed "right away" in wealthier areas of the city. Pulido responded that the city is transparent about its spending, through the budget that's posted online. But the budget does not break down spending by neighborhood or region of the city.
Who will you be voting for?
[cardoza_wp_poll id=28]