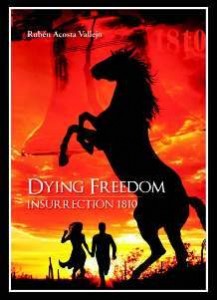 Santa Ana Community Alert: Santa Ana Public Library Welcomes Author Ruben Acosta Vallejo
SANTA ANA, CA (September 11, 2013) – The Santa Ana Public Library is pleased to present local author Ruben Acosta Vallejo for a discussion of his book Dying Freedom: Insurrection 1810. Through this wonderful work of historical fiction, Acosta helps a new generation understand the personal cost of their ancestors' struggles and triumphs.
Ruben Acosta is a teacher who grew up in Santa Ana, California. He learned English as a teenager while practicing his grandfather's mariachi songs. He is a former amateur boxer and enjoys playing baseball. Ruben received a Bachelor's Degree in Criminal Justice from California State University, Fullerton, as well as a Master's Degree in Cross-Cultural Teaching. He currently teaches second grade at Heroes Elementary in the City of Santa Ana and lives in Old Town Orange with his wife and their daughter and son.
The event is open to the public at the Santa Ana Public Library's TeenSpace (located in the basement), on Thursday, September 19, 2013 at 6:30pm. Admission is free.
THE SANTA ANA PUBLIC LIBRARY IS LOCATED AT:  26 CIVIC CENTER PLAZA (corner of Civic Center and Ross)
####