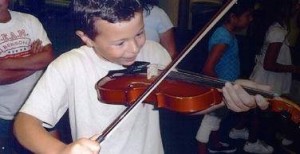 Santa Ana Unified School District, Press Release
Philharmonic Society Donating $10,000 Worth of Musical Instruments to Carr Intermediate Music Program
THE EVENT: The Orange County Philharmonic Society is donating musical instruments, music method books, and supplies worth $10,000 to Carr Intermediate School's music program. The event will kick off with a few musical selections by the Valley High School Band followed by a presentation of the instruments from the Philharmonic Society. Budding student musicians will have an opportunity to test out the brand new instruments that they will utilize in their music programs.
WHEN: Thursday, September 12, at 3:00 p.m.
WHERE: Carr Intermediate School
2120 W. Edinger Avenue
Santa Ana, CA 92704
VISUALS: School Assembly will include:
Excited students from Carr Intermediate School's Music Program
Performance by the Valley H.S. Marching Band
Students opening the cases with musical instruments and playing them
CONTACT: Deidra Powell, Chief Communications Officer – Santa Ana Unified School District at (714) 558-5555 desk or (714) 673-4995 cell.
###