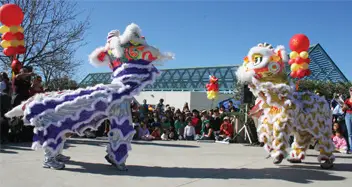 Ride Metrolink Free to LA for the 113th Golden Dragon Parade
SATURDAY, JANUARY 28, 2012
Meet us at the Irvine Station for a FREE Metrolink ticket, food and fun!
Be at the Irvine Station by 8:00 a.m. The first 100 people there will receive a free round-trip Metrolink ticket to Los Angeles Union Station! (First come, first served.)
Irvine Station
15215 Barranca Parkway
Irvine, CA 92618
(FREE parking)
FREE Metrolink tickets
FREE Lion Dance and other entertainment
FREE Food provided by Rubio's
Ride Metrolink to Chinatown in Los Angeles and attend the Chinese New Year Parade and Festival. Parade starts at 1:00 p.m. Tickets are good only on January 28, 2012. Metrolink tickets also good on LA Metro's Gold Line to Chinatown.
If you can't make the event in Irvine, you can still take Metrolink to LA for the parade and festival. For only $10 you can buy the Metrolink Weekend Pass and use it all weekend!