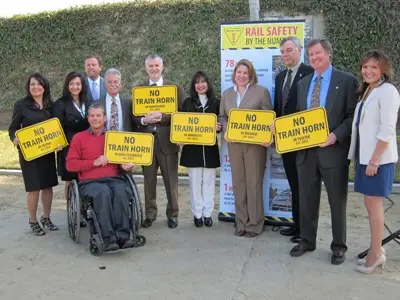 Jan. 23, 2012
Orange County Railroad Crossing Safety Enhancement Program is Now Complete!
Local elected officials, project city staff and OCTA celebrate the successful completion of the
Railroad Crossing Safety Enhancement Program with special "No Train Horn" signs for cities with established quiet zones.
OCTA is excited to announce that all work for the Railroad Crossing Safety Enhancement Program is now complete!
Since 2009, OCTA partnered with eight cities to upgrade and install safety features at 52 railroad crossings throughout the county. Improvements included upgraded warning devices, additional gate arms, extended and raised medians, improved signs and coordinated traffic signals. The completion of the program also allowed cities to apply for quiet zones once construction at the crossings was complete.
A quiet zone is one or more railroad crossings where train horns are not routinely sounded unless an emergency exists. Establishing a quiet zone is a separate effort from OCTA's Railroad Crossing Safety Enhancement Program and is entirely a city-led effort.
Each city is responsible for applying to the Federal Railroad Administration for a quiet zone. If you would like more information regarding a quiet zone in your city, please visit OCTA's Quiet Zones information Web page.
Be Safe in a Quiet Zone
Whenever you are near a railroad crossing, be sure to look and listen for a train coming in either direction before crossing the tracks. It is important to remember that train engineers will sound the horn as a warning:
in an emergency when there is a trespasser on the tracks if the automatic warning devices are malfunctioning or out of service in an area where construction crews are along or within the railroad right-of-way if there is a safety concern at the station (however the train is required to ring its engine bell while pulling in and out of a train station)
Reporting Potential Train Horn Violations
Because the quiet zones are new, there will be a period of adjustment for the train engineers and it is possible that the trains may still sound their horns at the crossings. In addition, nearby cities may not have established quiet zones so residents may still hear horns sounded in nearby areas. Each city will handle its own potential train horn violation reports. To report a potential train horn violation or for questions regarding the quiet zone, please contact your city representative.
GET CONNECTED
Follow RailSafeSarah on Twitter to receive Safety Tips on #RailTipTues!
THIS WEEK'S TIP: As many Orange County railroad crossings have been upgraded and now include improved signs and features, be sure to obey the new signals when driving and use the pedestrian crosswalk while walking.