FOR IMMEDIATE RELEASE: January 24, 2012
Contact: Jenny Wedge, (949) 252-5182 (office), jwedge@ocair.com
JOHN WAYNE AIRPORT ANNOUNCES WINNERS OF 22ND ANNUAL STUDENT ART CONTEST
SANTA ANA, Calif. – John Wayne Airport has announced the winners of its 22nd Annual Student Art Contest themed "Silent Flight." Jasmyne Kon and Alexander Kang received top honors as Grand Prize winners in this year's contest.
Winning art work illustrated the artist's vision of "Silent Flight."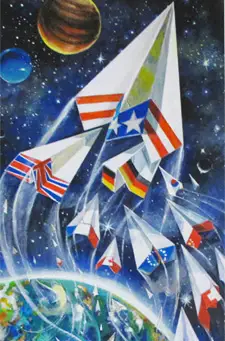 Alexander Kang
Category II Winner (Grades 7-12)
Cypress High School, Cypress
Twelfth Grade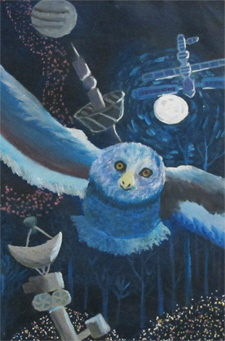 Jasmyne Kon
Category I Winner (Grades K-6)
Greentree Elementary School, Irvine
Fifth Grade
"We're very proud of the entries in this year's Student Art Contest," said Airport Director Alan L. Murphy. "The student artwork we receive in our annual contest continues to be impressive and we're pleased and proud to give these students the opportunity for recognition."
JWA's Student Art Contest is held each year. To learn more, visit www.ocair.com.
JWA implemented its Annual Student Art Contest in 1990 as part of the opening of the Thomas F. Riley Terminal. In 1996, the Airport began coordinating its art contest with the International Aviation Art Contest sponsored by the National Aeronautic Association, National Association of State Aviation Officials, National Aeronautics and Space Administration and the Federal Aviation Administration, in cooperation with the Federation Aeronautique Internationale.
JWA maintains an ongoing Airport Arts Program, and has presented a series of museum quality exhibitions in the Vi Smith Concourse Gallery and featured numerous Orange County artists through the Community Focus Space program.
About John Wayne Airport:
John Wayne Airport (SNA) is owned by the County of Orange and is operated as a self supporting enterprise that receives no general fund tax revenue. The Airport serves approximately nine million passengers annually, reaches 20 non-stop destinations in the United States and Canada and is served by 10 commercial passenger airlines. More information can be found at www.ocair.com.
# # #