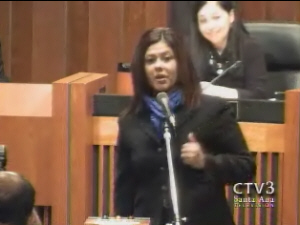 The OC Weekly's Gustavo Arellano is a huge fan of far-left Democrat Julio Perez – one of four Democrats vying for the 69th Assembly District.  That's fine.  What is not cool is Gustavo's continued allegation that Santa Ana Council Woman Michele Martinez "sold out" to Santa Ana Mayor Miguel Pulido.  That is not just untrue – it is complete B.S.
The reality is that Martinez was elected to Ward 2 on the Santa Ana City Council by running AGAINST Pulido's handpicked candidate, the useless Tino Rivera (a Republican who switched to the Democratic Party for that race).  That was a tough race – Martinez was unknown and vastly underfunded.  The other candidates included a Com Link Board Member, Evangeline Gawronski, who ran a credible campaign; a candidate, Tish Leon, who took out a loan on her house; and Rivera.  Martinez punked them all, garnering 32.6% of the vote, according to Smart Voter.
Think about it – Martinez began her career in politics by taking out Pulido's handpicked lame candidate.  This is a sell out?  Really?
Two years later, Martinez shocked everyone by running against Pulido himself!  She ran hard – but was up against the entire Pulido machine – and the Usual Suspects were still on Pulido's side at the time.  It was an ugly race marked with awful attacks against Martinez.  The race included two gadflys – George Collins and Stanley Fiala, but Martinez accounted well for herself, ending up with 29.3% of the vote, according to Smart Voter.
Two years later, the man who convinced Martinez to run in 2008, lawyer Alfredo "Al" Amezcua, threw his hat in the ring, opting to run against Pulido.  It was quite a turn of events as Amezcua was always Pulido's boy.  He was in fact one of Pulido's hatchet men.  He was quite a thug during the Nativo Lopez recall campaign – on Pulido's orders – going as far as to threaten a Santa Ana teacher who supported Lopez.  But Amezcua's love for Pulido waned when Pulido did not invest in Amezcua's disastrous and ultimately failed Santa Ana Business Bank.  Amezcua's investors lost over 40% of their stake in that dreadful scheme.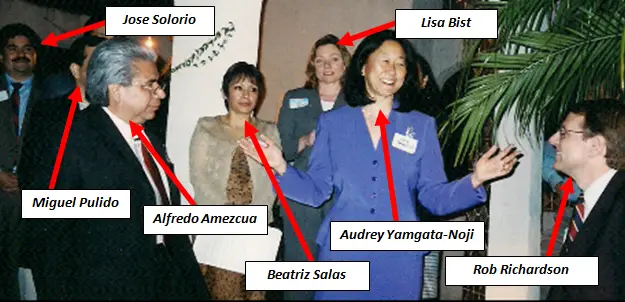 Amezcua was a big part of the Nativo Lopez recall campaign
And even worse, someone told Rancho Santiago Community College District Chancellor Eddie Hernandez that Amezcua had registered to vote at his law office when he ran for the Rancho Board of Education.  Amezcua was caught red-handed as he did not live in the area he ran for.  He resigned.  And Pulido's pal Mark McLoughlin ended up getting Amezcua's seat.  Amezcua knew McLoughlin well.  McLoughlin and his wife hosted the election night party when Lopez got recalled.
It was all too much for Amezcua to bear and he turned on Pulido.  He ran Martinez against Pulido to test the waters – and then he jumped in and ran in 2010.  But it was an epic fail.  Amezcua and his pals cornered Martinez and tried to force her to support his mayoral campaign – but things had changed since Martinez' failed mayoral campaign.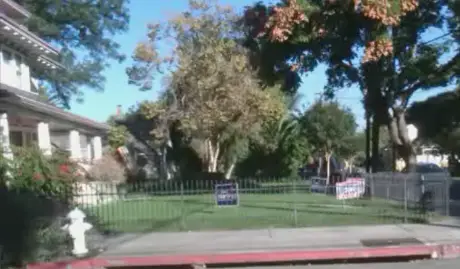 An Amezcua campaign sign in Debbie McEwen's front yard
Martinez had looked into the abyss and realized that Amezcua had royally screwed her by pushing her to take on Pulido. She had to figure out a way to make an impact on the City Council, and she approached them after the 2008 election.  They took her in – which in itself was amazing.  And then she began to have an influence on the Council.  She joined with Council Member Sal Tinajero and together they began to pull the City Council to the left.  At the same time, Mayor Pro Tem Claudia Alvarez began to ask hard questions about Santa Ana City Manager Dave Ream and his goons.
Since 2008, our City Council, which is now all-Latino and includes only one Republican, the disgraced Carlos Bustamante, has dumped Ream and his Lieutenants and removed most of the Usual Suspects from our City Commissions.  While Ream left our budget in tatters – and in the red – the Council and our acting City Manager, Paul Walters, have steadily climbed out of the budget hole.  This Council voted to support Harvey Milk Day and they voted to oppose Arizona's racist SB 1070.  The past Councils would have taken the reverse positions on those issues.  Chalk it up to Martinez and Tinajero – the progressive heart of the Santa Ana City Council.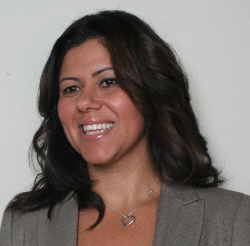 Did Martinez sell out?  Hell no.  She grew up and she has made a real impact on our City Council.  I too have been accused of selling out – but the truth is I started this very blog in September of 2009, in order to support Amezcua's campaign.  I was never a fan of his, but businessman Art Lomeli asked me to support Amezcua, as the lesser of two evils.  Sean Mill and I met with Lomeli and Amezcua and we signed on, but just a few weeks later it was terribly apparent that Amezcua was in bed with the same Usual Suspects that our Council majority had dumped off our City Commissions.  Mill and I showed up to several of Amezcua's SaCRED meetings – this was a group founded to support affordable housing.  But one night we arrived and found a gaggle of Usual Suspects was already there.
There was no way that Mill and I were going to stick with Amezcua if he was going to re-empower the Usual Suspects, and to make matters worse, his publicist, Jennifer Delson, called me and said that Amezcua wanted me to stop blogging about him.  I was trying to support the big dope!  At that point it was game over.  I determined that Amezcua was the threat in the 2010 Mayor's race – as Pulido was now working with us.  And that is how I ended up in Pulido's corner, after kicking his tail for some fifteen years over at my old Orange Juice blog.
Pulido's consultant retained my services to design a website for him – and I did a good job.  Imagine that.  Pulido put his campaign and his image in my hands – that should tell you a lot about him.  And what about Amezcua?  We kicked his tail and drove his Republican Usual Suspect pals nuts.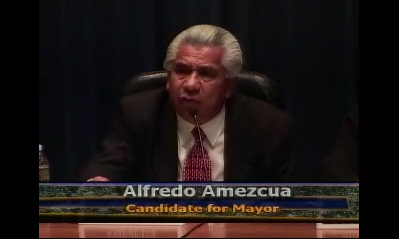 Did I sell out?  Hell no.  I made a few bucks and kept the Usual Suspects out of City Hall.  That my friends was a win-win.  Amezcua himself told me during the campaign that he should have worked with me, after he and Pulido appeared at a Com Link meeting.  Well Al, you should have.  Epic fail on your part!
Now Amezcua is backing Perez for the 69th.  That figures.  He is still pissed that Martinez got a higher percentage of the vote than he did when she challenged Pulido.  And she did that with a lot less campaign money.
Will Martinez beat Perez?  I hope so.  People have taken her lightly before and all she has done is win.  She fought the power in Santa Ana and she prevailed.  Let's hope she does so again.  Gustavo says Perez is the 69th. Not true.  Perez makes a living off the dues of working people.  Martinez grew up in Santa Ana.  She struggled without a dad and with a mom who was dealing with addictions.  Martinez prevailed with a lot of help from many good people – and unlike Perez she had to work for what she has.  Perez, if he gets to Sacramento, will join the blue horde of tax and spend union hacks that have bankrupted this state.  Martinez on the other hand will be progressive on the issues that really matter, but I trust her not to be a job killer, like Perez.  She is our best hope.