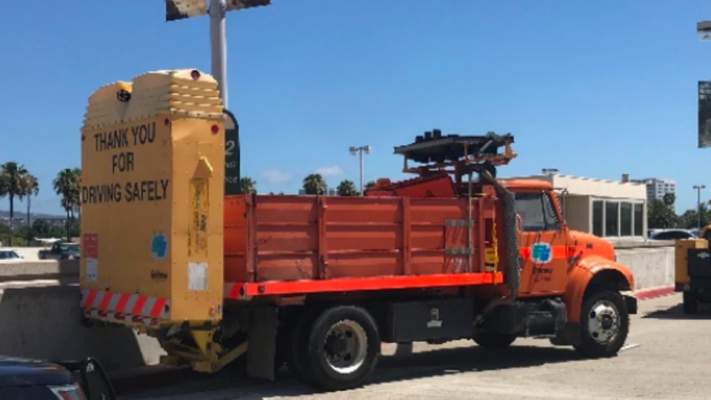 The Irvine Police Department arrested 31-year-old Erik Baumle after he carjacked a Caltrans truck on Thursday, July 16, by tossing a large dog into the passenger seat of the vehicle, which was at the Boomer's parking lot located off of Harvard and Michelson.
A Caltrans worker was sitting in his work vehicle when his passenger side door suddenly opened. The victim was startled to find Baumle standing at that now open truck door. The victim asked Baumle what he was doing but the suspect did not respond. Instead Baumle tossed his large dog onto the passenger seat, without any provocation.
The victim exited the vehicle at that point as he did not know if the dog was vicious and he was afraid for his personal safety.
Baumle then jumped into the truck and moved from the passenger side to the driver's side where he took over possession of the truck. Baumle then drove out of the parking lot and onto Michelson, going due West.
At the time of the carjacking another Caltrans worker was parked in his truck next to the truck that was stolen. The victim got into that truck and together they chased after the stolen truck while they dialed 911 from a cell phone.
Irvine police officers were quickly able to locate the stolen Caltrans truck and a pursuit ensued. During the pursuit Baumle drove onto John Wayne Airport's property and he attempted to enter a parking structure on the second floor near the departing terminals.
Due to the size of the carjacked Caltrans truck it collided with the top of the parking structure and was unable to continue forward. Baumle then put the truck in reverse and intentionally slammed it into an Irvine Police vehicle, disabling it.
Baumle eventually stopped the vehicle. However he remained in the truck for about five minutes before he finally surrendered.
Baumle was placed under arrest under charges of carjacking, theft of a vehicle and assault with a deadly weapon. This case was referred to the Orange County District Attorney's office for eventual prosecution.