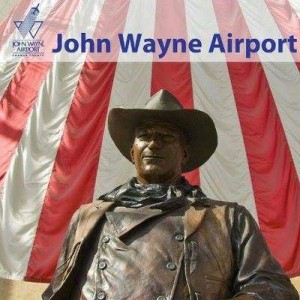 FOR IMMEDIATE RELEASE: June 24, 2015
Contact: Jenny Wedge, (949) 252-5182, jwedge@ocair.com
JOHN WAYNE AIRPORT PROVIDES FOURTH OF JULY HOLIDAY TRAVEL TIPS
SANTA ANA, Calif. – Summer travel is underway at John Wayne Airport (JWA) and with the upcoming Fourth of July holiday, JWA anticipates a busy travel period from Friday, June 26 through Sunday, July 5. Passengers and visitors are encouraged to check construction alerts at ocair.com and plan ahead if visiting JWA during this time. Passengers are also reminded that fireworks are prohibited in or around the Airport.
"Independence Day is a time to celebrate our country's independence and many travelers take to the skies during this holiday weekend," said Board of Supervisors Chairman Todd Spitzer. "Our goal is to ensure you have a safe, secure and enjoyable holiday travel experience."
Travel Tips for Passengers and Visitors:
All passengers flying out of JWA are encouraged to arrive 90 minutes to two hours before the scheduled departure time for domestic flights, and three hours for international flights to find parking, check luggage and go through the security checkpoint.
Passengers who are members of TSA Pre-Check can expedite the screening process in Terminals A, B and C.
Passengers are allowed one small carry-on bag plus one personal item as long as the carry-on bag fits airline dimensions. Check with individual airlines for specifics.
Drivers picking up passengers at the Airport are encouraged to utilize 2-hour parking spaces, located on the lower level of Parking Structures A1, B2 and C.
Parking Tips at JWA:
Curbside Valet Parking for $30 per day, located on the Departure (upper) Level between Terminals A and B, or in front of Terminal C.
Parking Structures A1, A2, B2 and C are located adjacent to and directly across from the Riley Terminal at a rate of $20 per day and $2 per hour with the first 15 minutes being free for those dropping off and picking up passengers. Access to terminal parking structures is available from the Departure (upper) Level only.
Off-site Main Street Parking Lot located at 1512 Main St., Irvine, for $14 per day with free shuttle service to/from the Riley Terminal every 15 minutes.
For parking availability, call 949.252.5200.
Tips from TSA and CBP:
Review Transportation Security Administration's (TSA) Traveler Information for a list of prohibited items and the 3-1-1 rule for liquids in carry-ons.
International travelers should check the U.S. Customs and Border Protection (CBP) website to ensure they have appropriate documentation for traveling to and from the United States. Note: Passengers who are members of the Global Entry Trusted Traveler Program can expedite their Customs clearance into the U.S. at John Wayne Airport. Those passengers traveling to and from Vancouver, Canada, will clear Customs in Canada before entering the United States.
For more Airport travel tips, visit ocair.com. Also see TSA's summer travel checklist by visiting: www.tsa.gov/traveler-information/summer-travel for more information.
###
John Wayne Airport (SNA) is owned by the County of Orange and is operated as a self-supporting enterprise that receives no general fund tax revenue. The Airport serves more than nine million passengers annually and reaches more than 20 nonstop destinations in the United States, Canada and Mexico. More information can be found at www.ocair.com. Like us on facebook.com/johnwayneairport, or follow us on Twitter @johnwayneair and Instagram @johnwayneair.