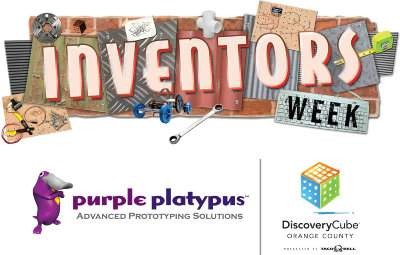 Purple Platypus
FOR IMMEDIATE RELEASE
CONTACT: Zody Huynh, zody.huynh@purpleplatypus.com, (949) 474-9222 x 106
Purple Platypus Gears Up For Inventors Week at Discovery Cube
IRVINE, California (June 22, 2015) – Purple Platypus, Inc., the only certified Stratasys 3D printer reseller servicing the entire Southwest region (Arizona, Nevada and Southern California), will be participating in Discovery Cube's Inventors Week from June 27, 2015 to July 12, 2015.
This is Discovery Cube's 3rd annual Inventors Week celebrating tinkerers, builders, and explorers of all ages. These future business leaders and engineers will be showcasing their inventions while learning about various electronic and robotic principles that are fundamental for every future engineer to know.
Activities will include stage shows, learning stations, "Meet the Makers" weekends, special guest speakers and 3D printing demos. For more information or to purchase tickets, please visit Discovery Cube's Inventors Week event page.
Purple Platypus will be featuring the Objet24, a Stratasys PolyJet technology, in the special exhibits area.
The Objet24 will run in demo mode throughout the day to help our future engineers understand how 3D rapid prototyping operates. In addition to the demo, Purple Platypus will have a wide array sample 3D printed parts representing both PolyJet and FDM technologies.
Discovery Science Foundation is a non-profit organization focused on education children through hands-on science. Purple Platypus is excited to provide the future leaders of the community with exclusive live demos of Stratasys 3D printers. For more information, please visit www.purpleplatypus.com or contact Purple Platypus at (949)474-9222 x 106.
###
17332 Von Karman Ave. Ste. 100 Irvine, CA 92614 | www.purpleplatypus.com | 949.474.9222