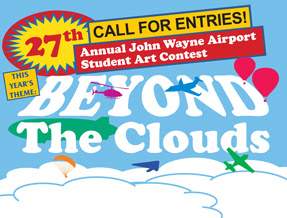 FOR IMMEDIATE RELEASE: October 4, 2016
Contact: Deanne Thompson, (949) 252-5182, dthompson@ocair.com
JOHN WAYNE AIRPORT INVITES ORANGE COUNTY STUDENTS TO ENTER 27TH ANNUAL STUDENT ART CONTEST
SANTA ANA, Calif. – John Wayne Airport's (JWA) 27th annual Student Art Contest is underway. All Orange County public and private school students, including home-schooled students, in grades kindergarten through 12 are encouraged to submit artwork inspired by this year's theme, "Beyond the Clouds." Entries should be submitted to the Orange County Department of Education, any Orange County Public Library Branch or participating city libraries, no later than 4 p.m., Thursday, November 3, 2016.
"John Wayne Airport has a vibrant arts program, displaying museum quality exhibitions in the Thomas F. Riley Terminal throughout the year," said Board of Supervisors Chairwoman Lisa Bartlett. "The Student Art Contest Exhibition is one of the most popular, showcasing the talents of our community's young artists."
John Wayne Airport Invites Orange County Students to Enter 27th Annual Student Art Contest
Selected by sponsors of the International Aviation Art Contest, the contest theme differs each year. Artworks that best depict this year's contest theme are selected for exhibition and prizes. Winners and honorable mentions from grades K-12 will be exhibited from December 6, 2016 until January 3, 2017, on the Arrival (lower) Level adjacent to Baggage Carousels 1 and 4. The JWA Student Art Contest is part of the International Aviation Art Contest. JWA winning entries go on to compete at State, National and often International levels of competition.
Each entrant will receive a certificate of participation from the Airport, and select winners will be awarded prizes donated by sponsors. Past sponsors include Boomers! Irvine, Disneyland Resort, Irvine Museum, JWA McDonald's, Knott's Berry Farm, Laguna College of Art and Design, La Habra Children's Museum and Southwest Airlines.
For more information about entering the Student Art Contest, visit www.ocair.com/terminal/artexhibits/#studentart or contact Art Program Coordinator Jeffrey Frisch at JFrisch@ocair.com.
###
John Wayne Airport (SNA) is owned by the County of Orange and is operated as a self-supporting enterprise that receives no general fund tax revenue. The Airport serves more than 10 million passengers annually and reaches more than 20 nonstop destinations in the United States, Canada and Mexico. More information can be found at www.ocair.com. Like us on facebook.com/johnwayneairport, or follow us on Twitter @johnwayneair and Instagram @johnwayneair.