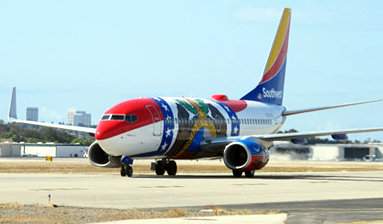 FOR IMMEDIATE RELEASE: May 14, 2015
Contact: Jenny Wedge, (949) 252-5182, jwedge@ocair.com
SOUTHWEST AIRLINES® ANNOUNCES NEW NONSTOP ROUTES FROM JOHN WAYNE AIRPORT
SANTA ANA, Calif. – Today, Southwest Airlines announced new nonstop service from John Wayne Airport (JWA) to St. Louis and Kansas City, Missouri. Southwest routed their specialty plane, Missouri One, through John Wayne Airport this morning to introduce the new destinations. Service to Kansas City (MCI) and St. Louis (STL), Missouri, will begin on November 22, 2015. Todd Spitzer, Chairman, Orange County Board of Supervisors; Dave Harvey, Southwest Airlines' Senior Director of Network Planning and Performance; and Laura DeSoto, Chair, Orange County Business Council Board of Directors shared their excitement for these new routes during a media event overlooking John Wayne Airport's Thomas F. Riley Terminal and airfield.
"We are fortunate to have a world-class airport right here in Orange County. JWA is beautiful, convenient and generates over six billion dollars in annual economic impact – it is a powerful engine that helps drive our economy," shared Board of Supervisors Chairman Todd Spitzer. "That engine will be even more powerful come November with thanks to Southwest Airlines and the launch of new nonstop service to Kansas City and St. Louis."
With the addition of Kansas City and St. Louis, JWA travelers will have more nonstop flight options than ever. Beginning in November, Southwest will have 66 daily nonstop flights to 18 destinations from John Wayne Airport.
"These new flights complement our breadth of service to key destinations that the Orange County community has asked for," said Dave Harvey, Southwest Airlines' Senior Director of Network Planning and Performance. "We're in the business of connecting people to what's important in their lives. We continue to increase flight options as we focus on serving the most relevant destinations, while providing Customers more seats at great low fares, our one-of-a-kind hospitality, and better schedules through nonstop options."
"The key to Orange County's healthy economy is our strong and growing tourism industry – an industry that has brought a remarkable 42 million visitors, who spend 7.75 billion dollars each year, to our community," said Gary Sherwin, immediate past president, Orange County Visitors Association. "As advocates of the travel and tourism industry, we are excited to welcome visitors from Kansas City and St. Louis and thank Southwest Airlines for helping introduce Missourians to all "the OC" has to offer."
###
John Wayne Airport (SNA) is owned by the County of Orange and is operated as a self-supporting enterprise that receives no general fund tax revenue. The Airport serves more than nine million passengers annually and reaches more than 20 nonstop destinations in the United States, Canada and Mexico. More information can be found at www.ocair.com. Like us on facebook.com/johnwayneairport, or follow us on Twitter @johnwayneair and Instagram @johnwayneair.
Southwest started service to Orange County in 1994, and has grown to become John Wayne Airport's largest carrier. With the addition of two new destinations, the airline will offer 66 daily departures to 18 cities, including international service to Mexico City, Cabo San Lucas/Los Cabos, and Puerto Vallarta, Mexico. For more information, visit the Southwest Newsroom at swamedia.com.