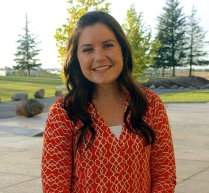 For Immediate Release
William Jessup University Senior Wins Scholarship
(Santa Ana, CA) – Hannah Fenn, 23, a senior at William Jessup University's (WJU) School of Public Policy in Rocklin, is the recipient of Trinity Law School's 2015 God and Governing Award. Fenn received a $2000 cash prize at the 10th Annual Public Policy Series held at WJU. Should Fenn decide to attend Trinity Law School at a later date, she will receive an additional $2000 and a renewable 50% scholarship towards annual tuition.
The God and Governing Award, named for Trinity Law School's conference on virtue, ethics, and statesmanship of the same name, is presented to a graduating senior in the William Jessup University School of Public Policy who demonstrates an exemplary understanding of current global or national issues and presents solutions to such problems that are innovative, realistic, and promote Christian values and beliefs. The winner is determined through evaluation of their thesis paper, presentation, and defense. Fenn's winning capstone project was entitled "The Ignored Foundation: Promoting Religious Freedom in the Middle East."
"I am very honored to have won the God and Governing Award," says Fenn. "It's exciting and such a blessing to receive this recognition for my paper and presentation."
A native of Loomis, California, Fenn graduated this month with a Bachelor's degree in Public Policy with a concentration in Government and Politics. After graduation, she will be working at a financial technology company based in Auburn, California.
About Trinity Law School:
Founded in 1980 as the Simon Greenleaf School of Law, Trinity Law School is a distinctively Christian law school located in Santa Ana, California. It is one of four schools in the Trinity International University system, which is based in Deerfield, Illinois. Trinity Law School is accredited regionally by the North Central Association of Schools and Colleges and accredited by the California State Bar Committee of Bar Examiners. For more information, please visit www.tls.edu or call 800-922-4748.
About William Jessup University:
Founded in 1939 by William Jessup, the university moved to Rocklin, California, in August 2004. WJU is the first and only WASC accredited private four-year Christian university to have its main campus located in the greater Sacramento area, offering degrees in many different disciplines, including Bible and Theology, Biology, Business Administration, Christian Leadership, Creative Arts, English, Family & Children's Ministry, History, Intercultural Studies, Kinesiology, Liberal Studies & Credentialing, Math, Music, Organizational Leadership, Pastoral Ministry, Psychology, Public Policy and Youth Ministry. Computer Science and Environmental Science programs will be added fall 2015. A Master of Business Administration as well as a Master of Arts in Leadership will begin spring 2016. In addition, the university offers a Master's of Arts in Teaching. WJU also has a School of Professional Studies (SPS) at its campuses in Rocklin and San Jose. Program concentrations include Business Administration, Christian Leadership, Counseling Psychology, Criminal Justice, Organizational Leadership, Public Administration and a Post-Baccalaureate Teacher Credential Program. For more information, please visit www.jessup.edu or call (916) 577-2200.
###
For more information, contact: Gina Adams, The Adams Group, 888-253-3622, 615-330-6327,  AdamsPRService@GMail.com