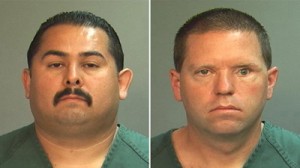 ORANGE COUNTY DISTRICT ATTORNEY MEDIA ADVISORY, Case # 11CF2575
TONY RACKAUCKAS, District Attorney
Susan Kang Schroeder, Chief of Staff, Office: 714-347-8408, Cell: 714-292-2718
Farrah Emami, Spokesperson, Office: 714-347-8405, Cell: 714-323-4486
FOR IMMEDIATE RELEASE: Date: September 21, 2011
WHO: Manuel Anthony Ramos, 37, and Jay Patrick Cicinelli, 39
WHAT: Appeared in court today for arraignment for their criminal participation in the beating-death of a homeless man, Kelly Thomas.
Ramos' arraignment was continued to Sept. 26, 2011, and he is in custody on $1 million bail. Under Marsy's Law, the victim's father had the opportunity to address the court asked that bail not be reduced based on the "horrific way my son was murdered."
Cicinelli pleaded not guilty at the arraignment today and is out of custody on $25,000 bail. He is scheduled for a pre-trial hearing Nov. 4, 2011.
Ramos and Cicinelli will both appear in Department C-55, Central Justice Center, Santa Ana, for their hearings. Both have been ordered by the court not to be in possession of firearms.
To read the full press release on this case, please visit www.orangecountyda.com and select the link titled, "OCDA Charges Two Fullerton Police Officers for the Beating-Death of 37-Year-Old Homeless Man," under Press Releases/Media Advisories.
###
www.orangecountyda.com • 401 Civic Center Drive West, Santa Ana, CA 92701