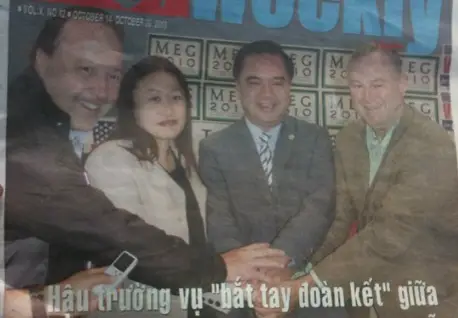 The honeymoon might be over between Van Tran and Janet Nguyen
If the County of Orange declares bankruptcy – again (due in part to Assemblyman Jose Solorio's vote to take away $48 million in state funding, from the County), will that open the door for former Assemblyman Van Tran to challenge incumbent Supervisor Janet Nguyen, in the First District?
Tran has very high name I.D., due to his run for Congress last year.  He did not beat the incumbent, Loretta Sanchez, but he garnered a lot of press, both negative and positive.
Nguyen, on the other hand, fumbled last year's Black April event, in Little Saigon, angering her Vietnamese-American voter base, and then endorsed Meg Whitman, which turned out to be an epic fail with her Latino constituents.
Tran got 37,679 votes in 2010, according to Smart Voter.  Nguyen only got 24,920 votes in 2008, when she last ran for office, according to Smart Voter.  The congressional district Tran ran for includes most of Nguyen's supervisorial district.
Tran got Nguyen's endorsement last year – and I am sure she made him promise not to run against her.  But we all know that promise will be off the table if the County of Orange files for Bankruptcy protection.