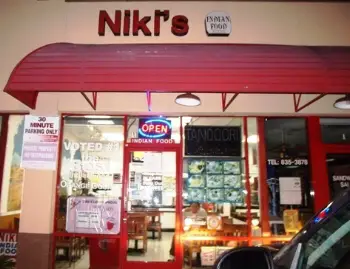 I stopped eating meat about three weeks ago.  I cook dinner most nights for my family – and now I also cook a vegetarian dish for myself as well.  My wife and kids are still carnivores, and so I still prepare steaks, chicken and the occasional shrimp scampi or fish tacos for them.
My diet is pretty simple now, although I am very good at making soups and such.  On occasion, when I want to treat myself, I head for Niki's Indian Food – a strip center restaurant located at 2031 East First St., Suite A-3.  They are just a few blocks west of Tustin Ave., at Golden Circle.  This restaurant is easily the best kept secret in town, when it comes to great comfort food.
What I love the best about Niki's, besides their awesome freshly made Naan bread (which is kind of like a cross between a tortilla and a pita bread), is that they always have several vegetarian choices.  My favorites include the garbanzo beans, mushrooms, spinach and lentils.  They also have awesome vegetable Samosas!  (Kind of like an empanada, or turnover).
Owner Andy Malik is very friendly and he will be happy to recommend a dish – and he even gives out samples if you want to try something new.
If you like meat on your plate, then you will love their chicken dishes, which include Tikka and Shahi, as well as Curry.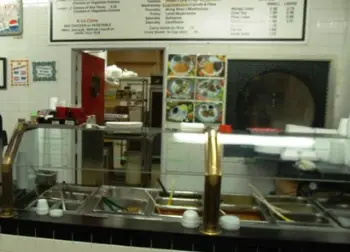 Food critics love Niki's too.
The OC Weekly called them "one of the best Northern Indian-style takeout joints in the county and as great a bargain as you'll find in these happy times."
The "Eat Like a Champion Blog" wrote that " The flavors and exotic spices that make up Niki's Indian Food left me with the impression that I would be disrespecting the food here if I ate with the violent irresponsibility I am so accustomed to!! About a quarter of the way in to my meal the thought kept repeating in my head, "Respect the food… Respect the food… Respect the food…"
Some folks complain that the food isn't spicy enough – but even if that were true, it is very flavorful and authentic.  And you can even get a three item combo if you can't make up your mind about what dishes to order.
You can get an Express Meal 2, with your choice of 1 Entree, Rice, 1 Naan and Salad or Yogurt, for only $6.49.  Or go nuts and get a Combo Meal 2, with your choice of 3 Entrees, Rice, 1 Naan, and Salad or Yogurt.  (Hint – I take the Yogurt and put it on my own salad!)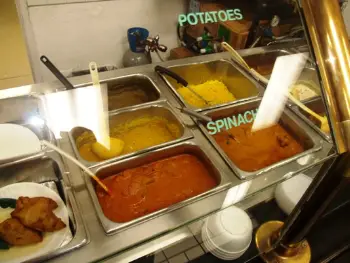 If you have a large family, try Niki's Take-Out Special:
1 Large Chicken Dish
1 Large Vegetable Entree
1 Large Rice
2 Full Naan (Bread)
1 Medium Salad or Yogurt
You get all of that for only $34.99.  It is easily enough food for four people.
Niki's also caters.  Call Andy for rates at (714) 542-2969, or on his cell at (951) 427-8707.