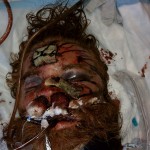 UPDATE:  DA TONY RACKAUCKAS HAS CHARGED 2 FULLERTON POLICE OFFICERS IN CONNECTION WITH KELLY THOMAS' DEATH
FPD officer Manuel Ramos will be charged with second-degree murder and involuntary manslaughter.   Ramos faces up to 15 years to life in prison.
 Cpl. Jay Cicinelli will be charged with involuntary manslaughter and use of excessive force.  He faces up to four years in prison.
They will be arraigned at 2PM this afternoon at the courthouse in downtown Santa Ana.
Read the Register article about this here
ORANGE COUNTY DISTRICT ATTORNEY MEDIA ADVISORY
TONY RACKAUCKAS, District Attorney
Susan Kang Schroeder, Chief of Staff, Office: 714-347-8408 , Cell: 714-292-2718
Farrah Emami, Spokesperson, Office: 714-347-8405 , Cell: 714-323-4486
FOR IMMEDIATE RELEASE: Date: September 20, 2011
WHO: Orange County District Attorney (OCDA) Tony Rackauckas
WHAT: Received today the Coroner's Report from the Orange County Sheriff's Department regarding the cause of death of Kelly Thomas. District Attorney Rackauckas will hold a press conference tomorrow to discuss his filing decision following the OCDA's investigation of six Fullerton Police Department officers in the death of Thomas.
WHEN: Press conference will be held tomorrow, Wednesday, Sept. 21, 2011, at 11:00 a.m.
WHERE: First floor law library, OCDA's Office, 401 Civic Center Drive W., Santa Ana
The following is important information for any media interested in attending the press conference:
In order to accommodate all media, and due to the high interest in this case, media will be permitted to attend by reservation only. Reservation requests must be submitted in writing by e-mail to Farrah.Emami@da.ocgov.com no later than 7:30 p.m. PST today, Tuesday, Sept. 20, 2011. Phone call and late reservation requests will not be accepted.
Please include all of the following in your written media reservation requests: the names of the media personnel wishing to attend, their job function (e.g. TV reporter, newspaper reporter, photographer, etc.) and the equipment they would bring (e.g. still, video, audio). Media are asked to limit their reservations to one reporter, one still photographer, and one videographer per agency. Any requests for exceptions must be made in writing.
Upon receipt of reservation requests, media will be sent a confirmation e-mail regarding their press conference reservation.
The OCDA will try to accommodate all requests but makes no guarantees. Media will receive their reservation confirmation no later than 8:30 p.m. PST today, Tuesday, Sept. 20, 2011.
Media must receive confirmation in order to attend. In addition to a reservation confirmation, media personnel must display their official press credentials issued by a law enforcement agency in order to be admitted. Media who do not have both a reservation confirmation and official press credentials upon arrival will not be admitted. No exceptions will be made.
###
*Please note: No additional information or interviews will be available prior to the press conference
www.orangecountyda.com • 401 Civic Center Drive West, Santa Ana, CA 92701