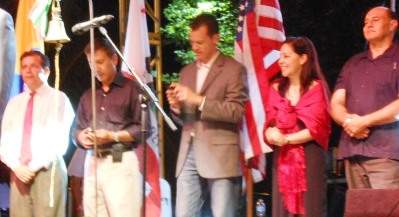 Have Benavides and Sarmiento been secretly coordinating their attack on Walters?
Apparently Council Member David Benavides called the Santa Ana City Clerk, Maria Huizar, this Friday, in the morning at about 10 am, to instruct her to add an item to the agenda for the Council meeting set for this coming Tuesday, regarding the review of Santa Ana's City Manager Paul Walters.  Click here to contact Huizar if you would like to confirm this.  You may also call her at 714.647.6520.
About a half hour later his colleague, according to my sources, Council Member Vince Sarmiento, made the same call, using the same language, to Huizar.
Later that day, at about 3 pm, Mayor Pro Tem Sal Tinajero reportedly called with the same message but he also instructed the Huizar to revise the agenda item to include the possible dismissal of Walters.
Then Benavides and Sarmiento each supposedly called Huizar again to also ask her to include the exact same language regarding Walter's possible dismissal.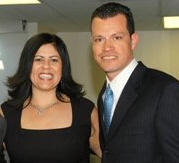 Finally, at 4:58, Council Member Michele Martinez is purported to have called Huizar too – with the very same language and agenda item request.
So here is the question – how did all of these Council Members arrive at the same action and end up using the same language, with regard to the agenda item in question, if they weren't secretly – and illegally – coordinating their actions?
The Brown Act allows for limited interactions between the Council Members – but the Council majority appears to be acting in clear violation of the Brown Act.
I am told that the lot of them, and then Council candidate Roman Reyna, also gathered at Sarmiento's home last year, right before the Council election filing deadline, to has out who was going to be their chosen candidate to run against Mayor Miguel Pulido.  You may recall that at the time both Tinajero and Benavides had pulled papers to run for Mayor.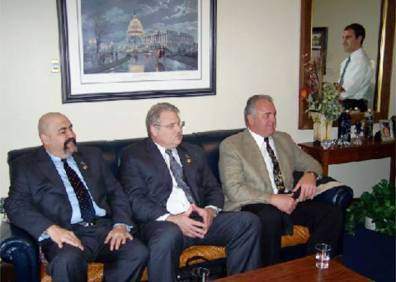 Supposedly the President of the Santa Ana Police Officers Association (SAPOA), John Franks, was at that meeting and he reportedly pledged to back the consensus mayoral challenger – who turned out to be Benavides.  I am told that Martinez then promised the sun, moon and the starts to Franks and his union.  Franks was true to his word – but Benavides got his butt kicked by Pulido on Nov. 6.
I am shocked that Sarmiento would risk losing his law license by allegedly engaging in these blatant Brown Act violations.  In fact I am told that many letters are on the way to the FPPC and the O.C.D.A., requesting an immediate investigation of this crew.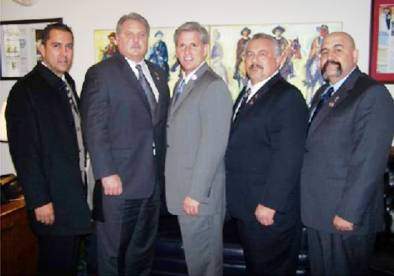 In the end this is what it probably all boils down to.  The Council majority seems to have gotten in bed with the police union and now that union's contract is up for consideration.  The City of Santa Ana is broke but remember that Tinajero, at a campaign debate two years ago, said then that we would eventually have to think about raising our taxes, via a citywide assessment, to pay for the cops.
Walters is standing in the way of the Council majority.  They allegedly promised a big, irresponsible raise to the police union and Walters is not going to let them bankrupt our city.  So he has to go – even if doing this results in a Council recall election.
Santa Ana Spring?  No.  Just a bunch of witless, greedy politicians who want more power and will wreck anyone who stands in their way.  It might however be time for a REAL Santa Ana Spring.  These ridiculous Council members clearly must go!  The revolution starts at Tuesday's Council meeting…