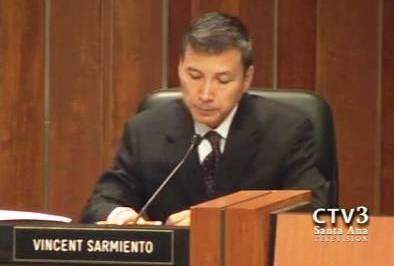 I continue to be amazed by the lame excuses our Santa Ana Council Members are making with regard to their ongoing attempt to fire our successful City Manager, Paul Walters.  Here are the latest nuggets from the Council, from the O.C. Register:
"Some staff in particular only do the work of the mayor, and that's been the culture of the city," said Tinajero. Pulido has been mayor for 18 years, and worked for years alongside Walters' predecessor, David Ream, and other top officials.

(Our Response: Are you kidding? Tinajero worked with Ream too – in fact he essentially sold out after getting elected in 2006, when Ream arranged for Tinajero to serve on various well-paying municipal commissions!)

"Those people worked together as a team for a long time to the detriment of wonderful projects that could have served the city," Tinajero said. For example, streets were improved, but only after the new council majority came into office after the 2006 election, he contended. 

(Our Response: Another lie.  The widening of Bristol St. was already well underway – and the rest of the streets were repaved when the recession resulted in lower construction costs and a vendor found a way to recycle the old pavement and asphalt)

"When it comes to Pulido, for him it's a power struggle," Tinajero said. "He's holding on to anything he can possibly hold onto. He needs to get out of the way. As long as he gets in the way, and staff allows him to get in the way of progress, then we'll have issues. So those are the issues we'll be discussing." 

(Our Response: Pulido has exactly one vote on the Council, as he always has.  Tinajero has five votes on the Council.  How is Pulido getting in the way?  Or is this code for Tinajero admitting that his Council majority wants to use city resources, as the Bell City Council did, to enrich themselves and their allies and they want anyone who might oppose them to get out of the way?)

Tinajero also cited the PBID as an area where the council didn't get a clear picture from staff.  "The PBID was not a bad idea. I've never been opposed to having the PBID, but the bad idea was the way it was implemented," he said, "and was because staff didn't give us all the information, the true pros and cons, and now we're left having to fix problems. I don't want to go through that again."

(Our Response: Did Tinajero and company bother to inform themselves about the PBID?  Read what he said – he was okay with taking money from some property owners to benefit others.  He is now admitting he was too lazy to stop this from the start!)

"The intent is to continue the review, but to have every option open," Benavides said. "We want to make sure that the right people are in the right positions, so that as we look at the future of the city, and specifically the future of the city manager, that we have an aligned vision, and there's discussion around that."

(Our Response:

It is the Council's job to have a vision.  It is Walters job to make sure their vision doesn't screw up our city!  Perhaps that is really why they want to fire him – so they can misuse their power and get away with it…)

"I personally thought a search would be the best option," Benavides said. Pulido and former councilwoman Claudia Alvarez, he said, contended the search should be suspended and then canceled. "They were able to convince enough of members of the council to do that. So that's what we did."

(Our Response: Only two Council members are gone from last year's Council – Alvarez and Bustamante.  Why did the rest of the Council vote unanimously to hire Walters if they were so upset about the search being canceled?  Why did it take them a year to grow a spine?)
And finally, this capper, from the Voice of OC:
"I think we need to see what his plans are for the city," Tinajero said.

(Our Response: Excuse me?  It is up to the Council to have plans!  Walters job is to administer the city's services and to try to bring the Council's plans to fruition.  It is not his job to have plans for the city!  Now he might have suggestions as to how to improve city services, but those go to the city's department heads and then eventually to the Council, once the staff is done with their research of the impact of any suggested changes.  Tinajero has been a Council Member since 2006 and he still has no clue what his job is?  This is inexcusable – particularly coming from our current Mayor Pro Tem!)
If this is the best our Council can do, perhaps they should stop talking to the media?  Oh wait, they pretty much already have done so – until this week.  This Council majority ought to crawl back into the shadows.  They are a total embarrassment!