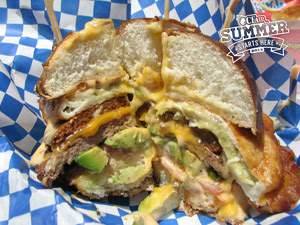 Grantburgers' New Chile Relleno Pretzel Burger Ranked Top OC Fair Food Item for 2014
Best of OC Fair Food Named During Concessionaire's Cup

Costa Mesa, Calif. (July 25, 2014) – Amid all things fried or on a stick, it was a spicy, loaded burger that won the Best of the Best award in the 2014 OC Fair Concessionaires' Cup Contest. Grantburgers' new Chile Relleno Pretzel Burger made it through four rounds of judging to be the top food item in the annual contest held July 18.
The 70 entries submitted by Fair food vendors were first judged on a set standard for Gold, Silver and Bronze rankings. All Gold-ranked items were then judged on creativity and originality for the Special Rosette round and these items were further judged based on value for menu price in the value round. Judges included The Bikini Chef Susan Irby, Foodie-A-GoGo Blogger Rich Manning, Chef Lindsey Smith Rosales of Laguna Beach's Nirvana Grille and Master Food Preserver and OC Fair demonstrator Ernest Miller.
Eight food items in the value round were deemed an "Outstanding Fair Food" item which included Grantburgers' Chile Relleno Pretzel Burger and Texas Donuts' Chocolate Reese's Donut, Chicken Charlie's Rotisserie Chicken, Country Faire's Cinnamon Roll with Glaze, JLQ Enterprises' Chicken Quesadilla, Morton's Concessions' Jumbo Corn Dog, Tasti Chips' Chipotle BBQ Dirty Chips and The Ranch's The Wrangler Burger.
Grantburgers' Chile Relleno Pretzel Burger is a towering sandwich with a spicy chorizo patty, jalapeno jam, avocado, tomato, cheese, and a whole chile relleno in a soft pretzel bun. Grantburgers is located on Livestock Way near the Yellow Gate inside the OC Fair.
The 2014 OC Fair, themed Summer Starts Here,is July 11 – August 10 and will bring 23 days of food, rides, exhibits, animals, music, action sports and fun, as well as the Super Pass, Toyota Summer Concert Series at the Pacific Amphitheatre and events in The Hangar and Action Sports Arena. The Fair is open Wednesday–Sunday. Concert tickets, action sports reserved seats, single-day general admission and the popular Super Pass are available for purchase online at ocfair.com or from the on-site Box Office. Free parking and shuttle service are available on Saturdays and Sundays from the Experian parking structure located off the Bristol St. exit of the 405 freeway.
The OC Fair & Event Center is located off the 405 and 55 freeways at 88 Fair Drive in Costa Mesa. For more information, please visit ocfair.com, become a fan at Facebook.com/OCFair, follow us at twitter.com/ocfair or call(714) 708-1500. Also, download the free OC Fair iPhone and Android apps available this summer.
###