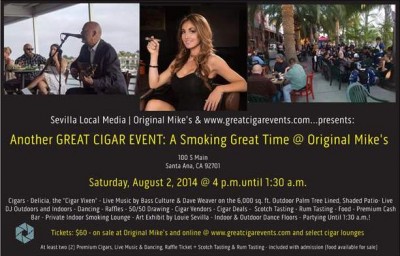 A Cigar Event will be hosted on August 2, 2014 at Original Mike's, located at 100 S. Main St. in Santa Ana.
The event will include Cigars, Live Music, Scotch Tasting, Rum Tasting, a live DJ, and Dancing.
The event will be held on their beautiful 6,000 sq. ft. outdoor patio.  There is also a private Smoking Lounge inside and a fully stocked Premium Bar.
Great food and Taco Man outside on Patio
Each guest will receive no less than two (2) Premium Cigars
Cigar Deals! Box purchases with free gifts
Rum Tasting by Nica Travel
Scotch Tasting
Live Music on the patio by Bass Culture and Dave Weaver (Jazz/Blues Guitarist)
Live DJ beginning at 8:00 p.m. outside
R&B Funk/Oldies Band inside – beginning at 8:00 p.m.
Artist – Louie Sevilla (art work on exhibit and for sale)
50/50 Raffle
Raffles for great merchandise – GRAND PRIZE is a 7 day/6 night Beach House stay in beautiful Nicaragua!
An FDA Comments table will also be set up; make your comment to the FDA on proposed harmful legislation before August 8, 2014.